Hope not Hate have marked the 81st anniversary of the Battle of Cable Street with a call for donations towards its current day efforts to "present a steadfast and united opposition to fascism".
The day on 4 October 1936 when the people of the east end of London united to halt Oswald Mosley and his British Union of Fascists (BUF) marching through Stepney is a historic date in the story of the anti-fascist movement.
The fascists were subjected to a humiliating defeat as the police found themselves unable to clear a path. The battle has been described as "the most popular anti-fascist victory to take place on British soil".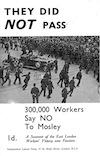 A year ago Hope not Hate launched a new website on the 80th anniversary of the battle while the ILP, one of the organisations that helped mobilise opposition to the march, republished its contemporary pamphlet, They Did Not Pass: 300,000 Workers says NO to Mosley, containing a first-hand account of the day's events.
The pamphlet was originally sold for one old penny but the ILP has made it available to read or downloadable as a pdf document from our Publications page.
Click here to read They Did Not Pass as a pdf document.
The Hope not Hate website profiles Stepney and the rising tensions leading up to 4 October, examines the Jewish community of the time, looks at the battle itself and its legacy, and includes interviews with historians and Cable Street veterans.
It also contains eyewitness interviews, old TV footage and lots of anti-fascist, fascist and police documents to help piece the day together.
Nick Lowles of the campaign group said in an email to supporters on the anniversary:
"The Battle of Cable Street, as it became known, is considered to be the greatest ever anti-fascist victory to have taken place on British soil.

"It's estimated that anywhere between 100,000 and half a million people were there that day.

"And HOPE not hate works every day to embody the example they set – to harness the size and strength of our community, shared values, and determination to present a immovable and devastating force against fascism in our society.

"I'm asking you to mark the anniversary of Cable Street by ensuring we can continue to present a steadfast and united opposition to fascism."
You can make a regular gift or one-off donation to Hope not Hate here.
—-