The North West Trade Union International Committee (NWTUIC) is organising a trip to Spain next April to commemorate the 80th Anniversary of the Battle of the Ebro.
This was the last great offensive launched by the troops of the Spanish Republic and International Brigade volunteers to stem the advance of General Franco's fascist army in the Spanish Civil War of 1936 to 1939.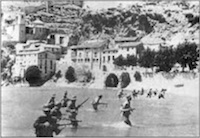 The tour aims to educate today's trade union activists about the living history of the movement and the spirit of solidarity exemplified by the struggle and sacrifice of volunteers in the International Brigade.
The Brigade consisted of working class people from around the world who made a dangerous journey to Spain to try and halt the rise of fascism there and throughout Europe.
The tour will commemorate their legacy of solidarity, justice, anti-fascism and internationalism.
The Ebro Solidarity Commemoration Tour takes place from Thursday 19 to Monday 23 April 2018 and costs £250.
For more information and details of the tour and how to book, click here.
—-