Durham is set to host a two-day 'political festival' called 'People, Pits and Politics' in the run-up to the north east city's annual Miners' Gala this July.
Organised by Momentum, the multi-stranded event is aiming to bring together "the very best in community organisers, political trainers and alternative media to empower ordinary people to do extraordinary things".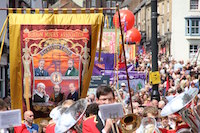 The programme on Thursday 12 and 13 July features a range of speakers and performers from shadow chancellor John McDonnell to journalist Paul Mason, filmmaker Ken Loach and comedian Mark Steel, as well as a music event in Durham Town Hall hosted by songwriter Billy Bragg.
The various sessions will be held in a variety of venues around the city, and include:
question time panels
organising and training sessions
case studies of community campaigns
workshops on setting up co-operatives
Labour history and Labour women's history
sessions on organising to challenge racism and bigotry, and win over those vulnerable to far-right propaganda
training on unionising precarious workers
political education sessions on transformative policies
music, comedy and drama.
Many events are free but some are ticketed. More information and details of featured events are here.
The 134th Durham Miners' Gala will follow on Saturday 14 July. Full details and information about the 'Big Meeting' are here.
And there will be a Momentum conference in the Town Hall on Sunday 15 July. Details here.
—-