Two of Labour's leading women shadow ministers will take centre stage at the second Dave Hopper Memorial Lecture on the eve of this year's Durham Miners' Gala in what will be a fitting climax to Education 4 Action's week-long fringe programme called 'Politics, Pits and Protest'.
The inaugural lecture in memory of the former general secretary of Durham Miners' Association was held at the DMA's Redhills headquarters in 2017, when filmmaker Ken Loach was the featured speaker.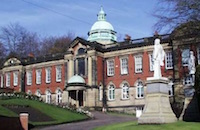 Labour's shadow foreign minister Emily Thornberry will deliver this year's speech on Friday 13 July, while North West Durham MP and shadow minster for Labour, Laura Pidcock, will chair the event at the so-called 'Pitman's Parliament' – a suitable way to mark International Year of Women and 100 years since the first stage of women's suffrage.
Formed in 2013, Education 4 Action have been organising the pre-Big Meeting programme at Durham Miners' Hall for the last five years, working closely with the DMA and the Friends of Durham Miners' Gala, 'the MarrasÆ, in an effort to bring together people with a shared interest in mining and Labour heritage.
This year's schedule starts on Saturday 7 July when the unique listed building on Redhills will be open to the public with guided tours by heritage volunteers. Local sixth form students will visit during the day on Monday 9 July while there is a live music and film night that evening featuring the iconic miners' strike photographs of Keith Pattinson and the songs of Brenda Heslop.
North east Labour history takes centre stage on Tuesday 10 July with a day of events organised by the local heritage branch of the Workers' Educational Association, while the Women's Banner Group come to the fore on Wednesday 11 with the unveiling of a new community banner and a celebration of the achievements of women in unions, politics and local communities.
A large selection of historical women's banners will be on display at Redhills and there will be a programme of live performances from storytellers, musicians, poets, actors, choirs and bands.
The 2018 Dave Hopper Memorial Lecture will conclude this year's events on Friday 13 July with the 134th Durham Miners' Gala taking place on Saturday 14.
Tickets for all 'Politics, Pits and Protest' events are free although booking via Eventbrite is essential for the memorial lecture.
Full details of all events, how to book and more information about Education 4 Action can be found on the group's Facebook page.
—-
See also: 'People, Pits and Politics' to read about more events centred on this year's Durham Miners' Gala.