Labour policy-making needs to be more open and democratic, argues HUGO RADICE. And party members need to be fully involved. Could an online College of Labour provide the answer?
In recent years Labour membership has increased massively, and following the 2017 general election the party is now realistically looking to win next time. The 2017 Manifesto provided us with a solid basis for widening electoral support, but if we are to win the support of our fellow citizens for a transformative and radical programme, we need not only enthusiastic canvassing and the effective use of social media, but also a detailed and concrete set of policies.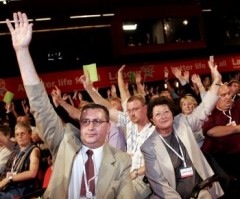 Our members everywhere are discussing the issues, but the party requires more open and democratic policy-making processes in which we are fully involved. We also require educational materials on key policy issues that will help new members to develop support for our programme within our communities.
The National Policy Forum can play a central role in these efforts, but to do so it has to develop structures and processes that engage the membership at large. From my own discussions with fellow activists, it is clear that most have little idea of what the NPF does nor how its work relates to their own predominantly local political life.
Delegates to conference receive the annual reports of the NPF and its commissions, but those reports give no sense of how and why particular policy choices were made. During the year between conferences, CLPs, branches and individuals contribute their own proposals, but seem to receive no feedback on whether such contributions are discussed and with what outcome. Reports on the work of commissions seem to be unavailable to the membership at large, let alone minutes of meetings or records of attendance.
Here, I give a short account of the origins of the NPF in the 1990s, how it evolved and how it works at present. I set out proposals for renewing the NPF, based on developing the twin functions of policy debate and political education at local, regional and national levels. And I propose Labour sets up a web-based 'virtual college' that can draw on the knowledge and expertise of members and supporters, and function as a party think-tank for the NPF, the National Executive Committee and the Joint Policy Committee.
Origins and structure of the NPF
The NEC agreed to set up a National Policy Forum in 1992, and its first meeting was held in May 1993. The same period saw the establishment of the Joint Policy Committee, bringing together the NEC and the Shadow Cabinet, and the NPF reported (as it still does) to both the NEC and the JPC.
These innovations were intended to enable continuous debate on the party's policies between the annual meetings of conference, which remained the final arbiter on policy matters. Within this framework, the specific purpose of the NPF was to provide a voice for the members and affiliated organisations to contribute to policy developments on a continuous basis, independently of the NEC and the JPC. As Lewis Minkin notes, in his 2014 book The Blair Supremacy: A Study in the Politics of Labour's Party Management, the new organisations promised a more deliberative and consensual approach to policy-making "in marked contrast to the traditional adversarial and resolution-based politics of the Labour movement, and in particularly sharp contrast to the politics of the battle over OMOV".
From the start the NPF was a delegate body, with sections elected from different components of the party. At present these include CLPs (divided into regional groups), trade unions, other affiliated bodies, councillors, MPs, MEPs, peers, women, young people, BAME members, LGBT and disabled members. However, after the first few years, the early promise of giving voice to members in a more deliberative process came up against the increasing centralisation of policy-making under Tony Blair's leadership.
Despite the growth in membership associated with Labour's 1997 landslide election victory, at CLP and especially branch level, attendance and activity dwindled. At national level this was most visible in the tight orchestration of conference, and the increasing turn to relying on think tanks and focus groups in developing Labour's policies. The NPF became a body that validated the leadership's changes in policy, rather than providing a channel for the active participation of CLPs, branches and their members.
In local politics the replacement of District and County party bodies by Local Campaign Forums, focused almost entirely on electoral work, went along with transformations in local government towards a corporate-style approach centred on cabinets of senior councillors and a growing role for executive officers. These changes reduced the opportunities for members to engage directly in policy debates on local issues.
The NPF was originally intended to develop a multi-level structure of Regional and Local Policy Forums. While such bodies did exist in various places at various times, they never developed sufficiently to act as a counter-weight to top-down direction, and there seems to be no trace of them now. Although the work of the NPF and its reports to conference have undoubtedly played a role in policy debate, the original intention of providing a continuous channel of communication between the party's base and its leadership has never been fulfilled.
Meanwhile, over the last 25 years there has been a steady decline in the political education that members could once access, either through educational work organised by the party itself, or through trade unions and the adult education provided by university extra-mural departments and the Workers' Educational Association. However, the original intentions behind the NPF's formation can still provide the starting point for its transformation to meet the party's current aim to involve members more effectively.
Renewing the NPF's purpose and activities
If CLPs, branches and individual members are to participate more fully in shaping Labour's policies, the party needs a structure that enables them to communicate meaningfully with the NPF. Since a substantial proportion of NPF members are elected regionally – 77 out of 167 at present – there is still a basis for establishing Regional Policy Forums as originally intended, for it would be a simple matter for the seven NPF members in each region to form the core of these regional bodies.
At local level within each region, one option would be to extend the remit of Local Campaign Forums to include policy discussion, in addition to electoral work and the support of Labour Groups on local councils. Some local participation in policy-making does take place through CLP observers who attend local authority Labour Group meetings in a consultative capacity, but this work is naturally focused on immediate local issues.
For that reason it would seem more appropriate to have separate Local Policy Forums. Unfortunately, the geography of LCFs is complicated by the fact that, in principle, there is one LCF for each local authority. Where there are two tiers, as in many English counties, this means CLPs are sending delegates to two different bodies with different remits.
Many CLPs and their branches already discuss local, regional and national policies routinely, either in formal educational sessions or as an adjunct to campaigning, and an LPF would provide a framework for joint discussions and the exchange of expertise and policy ideas.
If the proposals currently submitted directly to the NPF and its commissions by CLPs, branches and individuals were instead channelled through Local and Regional Policy Forums, it would allow a degree of coordination and consolidation of proposals before they went to national level. At the same time, the RPFs and LPFs could circulate material coming from the NPF and JPC, including draft policy proposals for discussion, and requests for input on policies prioritised by the leadership.
Making draft policy papers freely available would also contribute to the revival of political education at the party's grassroots. This can play a vital part in building the confidence of new members, developing their capacity to campaign on local and national issues on the doorstep, in the media and at public meetings. There is today a vast amount of readily accessible material from think tanks and from academia, which can also serve this purpose. At the same time, many of our rank-and-file members have specialist knowledge gained through education and their work, which can also be disseminated, both locally and more widely.
At present, the NPF and its commissions are serviced by a small number of policy officers in Labour's London HQ, led by the head of policy development and the policy development coordinator, and working under the supervision of the NEC and the general secretary. However, their more immediate priority is to support the front-bench teams in their parliamentary work. Servicing the wider needs of the party and its members in policy development and political education will require additional resources in a transformed NPF.
An online College of Labour
Building up and deploying research and educational resources requires expert knowledge and good communication skills, and for this purpose a new organisation is needed that would stand alongside the NPF and its regional and local components.
If such a 'College of Labour' is established on the internet, it will have no need for a central location or expensive physical facilities. We can draw on decades of experience in developing online distance learning within higher education, and we can also consult existing progressive think tanks and research units such as CLASS, the Cooperative College and the Labour Research Department.
Departments or faculties within the College of Labour would be drawn from Labour members and sympathisers with expertise in teaching and research in particular policy areas, corresponding to the NPF's commissions. Members of the College would monitor policy research and publications in their respective fields, posting links on the College website.
The College of Labour should stand outside the party's conventional decision-making structures, which, as noted earlier, are focused on actual policy decisions and therefore unavoidably adversarial. Its main purpose will be precisely to ensure that a wide range of policy options are made available for discussion within the limits set by the party's principles and values. While relying primarily in its work on the voluntary contributions of party members and supporters, the administrative staff required should be appointed within the existing structures overseen by the NEC and the general secretary.
Conclusions
I am proposing three changes:
The establishment of Regional and Local Policy Forums, to provide clear and straightforward channels through which CLPs, branches and individual members can participate more effectively in the work of the National Policy Forum.
The deliberations of the NPF and its commissions should be made fully available, along with their responses to proposals submitted. This requires a significant increase in staffing and other resources.
The party should set up an online College of Labour, whose purpose would be to collect and make available a wide range of materials for the purposes of policy debate and political education.
—-
Hugo Radice is vice-chair of Richmondshire branch Labour Party and secretary of North Yorkshire Local Campaign Forum.
This article is based on proposals submitted to the Labour Party's Democracy Review, which have been endorsed by Richmond (Yorks) CLP.