Until recently, pioneering ILPer Ada Salter was little known in her home town of Raunds. GRAHAM TAYLOR reports on the first event ever to celebrate her legacy in the Northamptonshire town.
A prophet, it is said, is never honoured in their own country and this seems to be even more true if the prophet is a woman.
It is certainly true of Ada Salter, the pioneering ILPer who was honoured in her home town of Raunds, Northamptonshire, for the first time on Saturday 12 August when the Ada Salter Garden was opened near her childhood home (pictured below).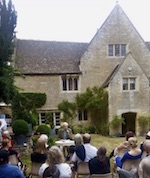 Ada Salter became renowned in London as a founding member of the Women's Labour League and the Women's International League; for initiating the Bermondsey Uprising of 1911; for carrying through (with her husband, Dr Alfred Salter) the Bermondsey Revolution of the 1920s; for her work with Herbert Morrison on the London County Council in the 1930s (establishing the Green Belt); and for being the first Labour woman councillor in London, the first woman mayor in London and one of the first women mayors in Britain.
But in her native town of Raunds she had been completely forgotten until a statue in her honour was unveiled near Tower Bridge, London, in 2014. That event led eventually to the opening of the Raunds garden, a joyous occasion on which, at last, Ada was celebrated in the town of her birth.
Two former mayors of Southwark and a coach full of Ada Salter admirers made the journey from London to Northamptonshire that morning to see the Mayor of Raunds, Richard Levell, open the Ada Salter Garden and welcome the London visitors, even though he represents an entirely Conservative council. (He is pictured below with the Mayor of Southwark, Catherine Rose.)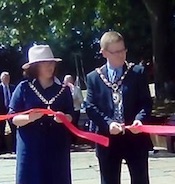 But this is part of Ada's legacy. Her ILP 'ethical socialism' was never personally antagonistic or narrowly party political. Her slum clearance project, her Green Belt initiatives, and her beautification programme benefited all Londoners, rich and poor, and her work for women ultimately aided all women.
Her fundamental belief, which underpinned the work of her famous Beautification Committee, was that a 'new world' could be built only by beautiful people, and beautiful people could not flourish in slums nor sweat shops nor during wars, and this owed as much to the Tory, Ruskin, as to the Marxist, William Morris.
In the long run, Ada's work benefited everybody and it was wonderful to see this acknowledged on a sunny day in beautiful Northamptonshire by her home community standing side-by-side with people from the community to which she had dedicated her life.
—-
Graham Taylor is the author of Ada Salter: Pioneer of Ethical Socialism published by Lawrence & Wishart and available to buy here for £20.00.
Barry Winter's review of the book is here.
Graham Taylor's ILP pamphlet, Ada Salter and the Origins of Ethical Socialism, published by the ILP can be ordered now from our Publications page.