Jeremy Corbyn, Naomi Klein, Owen Jones and Paul Mason just a few of the headline speakers at this year's The World Transformed festival set to run alongside the 2018 Labour Party conference in Liverpool later this month.
The four-day politics, arts and music event will run from Saturday 22 to Tuesday 25 September. It has a bigger programme than ever for its third edition with sessions on everything from political education to climate change, campaign building, Europe, the far right, housing, feminism and much more.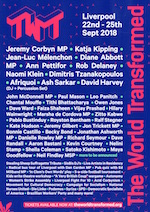 There will also  be film screenings, football, coding workshops, art and reading groups. Corbyn will speak on Sunday evening while his predecessor as Labour leader, Ed Miliband, hosts a pub quiz on the final night.
The festival takes place in three venues – The Black-E, Hinterlands and Constellations – while ticket prices vary from free for unwaged to a £35 'solidarity' fee.
What: The World Transformed
Where: The Black-E, Hinterlands and Constellations, Liverpool
When: Saturday 22 – Tuesday 25 September 2018