Bob Smillie, one of the ILP's most prominent Spanish Civil War volunteers, will be honoured in Valencia on Tuesday 14 May when a specially commissioned plaque is unveiled close to his grave.
Smillie volunteered to fight with the ILP contingent and served for a time alongside George Orwell who remembered his comrade in the lauded Civil War memoir, Homage to Catalonia. Smillie served with the POUM militias and was involved in the 1937 'May Day events' in Barcelona before being arrested near the French border and dying in prison in mysterious circumstances.
Orwell wrote of Smillie: "Here was this brave and gifted boy, who had thrown up his career at Glasgow University in order to come and fight against Fascism, and who, as I saw for myself, had done his job at the front with faultless courage and willingness…"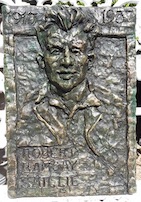 The plaque, designed by Scottish sculptor Frank Casey, will be set in stone and unveiled by some of Smillie's relatives in the presence of Casey, Orwell's son Richard Blair, members of the ILP and of the Orwell Society.
Researcher and writer Mariado Hinojosa will also be present. It is thanks to her diligent work that the long-lost prison files covering Smillie's time in Modelo-Celular Prison have emerged more than 80 years after the Scot died, allegedly from peritonitis.
At the conclusion of her report, Hinojosa writes: "Reconstructing Smillie's life and death is an exercise not only in memory but also in justice; it is a tribute to a young man who left everything behind to go to an unknown country to stop fascism in its tracks."
Smillie had been a lifelong socialist and was chair of the ILP's Guild of Youth before he went to Spain. He was just 20 when he volunteered, giving up a career as a chemist, and became personal secretary to John McNair, the ILP's representative in Barcelona, while also fighting on the Aragon Front.
After his death, ILP leader James Maxton said: "A blank place appears in his home and in our movement. We have only a memory to fill the blank, but it is a bright and inspiring memory of a man – a man who saw the light and followed it."
ILP general secretary Fenner Brockway described his death as a tragedy, writing: "Socialism was his life and his own character reflected all that is best in the socialist spirit."
—-
Reports and interviews from the event in Valencia will be published here over coming weeks, while ILP chair David Connolly's speech at the commemoration will be available from Tuesday (14 May).
Read more about the ILP volunteers at the Spanish Civil War here.
Land and Freedom, the ILP's account of the Spanish Civil War, is available for £4.00 from our Publications page.