Chair DAVID CONNOLLY was one of a number of ILPers who attended the commemoration of Spanish Civil War volunteer, Bob Smillie, in Valencia today (Tuesday 14 May). Here is David's speech to the gathering in Spain where a specially commissioned plaque was unveiled.
On behalf of Independent Labour Publications, I would like to thank everyone who has been involved in organising this event today. We greatly appreciate the invitation.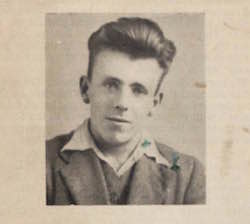 Bob Smillie was a member of the Independent Labour Party and we are its descendant organisation so Bob is 'one of our own'.
But Bob Smillie was no ordinary member of the ILP. Coming from a well-known coal mining family in Scotland he didn't choose left wing politics, he was born into it.
His grandfather Robert Smillie was a leading figure in the Miners' Federation of Great Britain, a founding member of the ILP in 1893 and a close friend of Keir Hardie. It's great to see members of Smillie family here today.
A noted debater and platform orator, Bob was the Chair of the ILP's Guild of Youth and in October 1936 aged just twenty and a trained chemist, he left his studies at Glasgow University to go to Spain to help set up an armament's factory, possibly with Georges Kopp.
When that didn't work out, he became the personal secretary to John McNair, the ILP's representative in Barcelona.
He was determined to defend democracy in Spain and fight for a social and economic revolution so he joined the ILP volunteers and the POUM militias on the Aragon Front where he would cook for 12 hours at a stretch and then take part in the night patrols.
A good singer, his traditional Scottish songs could often be heard at the front and when not singing he shouted slogans across the trenches encouraging the enemy to desert, in good Spanish of course.
He took part in the attack on Ermita Salas and in Homage to Catalonia George Orwell commends, "this brave and gifted boy", his "faultless courage", "the best of the ILP volunteers".
His commander Georges Kopp said he was "one of the most gallant soldiers in the regiment".
Recognising the propaganda value of his invaluable experience of the civil war the ILP recalled him to Britain to lead a campaign for the Spanish Republic but of course his arrest near the French border made that impossible.
Tragic death
Today, thanks to the research carried out by Mariado [Hinojosa], we now know more about the tragic death of Bob Smillie, even in great pain he was generous to those who imprisoned him.
Immediately after his death the leader of the ILP Jimmy Maxton wrote, "A blank place appears in his home and in our movement. We have only a memory to fill the blank, but it is a bright and inspiring memory of a man – a man who saw the light and followed it."
And in 1942 the ILP General Secretary, Fenner Brockway put it this way, "Socialism was his life and his own character reflected all that is best in the socialist spirit. He had his grandfather's personality … and his death in the Valencia prison – a prisoner held by the very side he went to help – was a tragedy the memory of which still hurts."
Bob fought against fascism in the 1930s and now the rise of the nationalist and racist far right in Britain, in Spain, across Europe and throughout the world means that we must revisit and renew that struggle today.
So, let the memory of his 'bright light' shine on and from this gathering today let us say, "Camarada Bob Smillie, te saludamos!" (Comrade Bob Smillie, we salute you!).
—-
Reports and interviews from the events in Valencia will be published here over coming weeks.
Read more about the ILP volunteers at the Spanish Civil War here.
Land and Freedom, the ILP's account of the Spanish Civil War, is available for £4.00 from our Publications page.