With the general election less than two weeks away, BARRY WINTER provides a snapshot of the appalling state of our society after 10 years of Conservative cuts. It's time for change.
Poverty and low pay
The UK has one of the most unequal distributions of wealth of all western European countries. More than 13 million people, including 4.5 million children, are living below the breadline, with more than half trapped in poverty for years.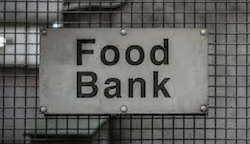 More than 2,000 food banks now cater for more than a million hungry families, while food insecurity among the least well off doubled between 2004 and 2016. The biggest network of food banks in the UK, the Trussell Trust, provide record levels of emergency food supplies – 1.3 million three-day food packages for "people in crisis", usually due to problems with Universal Credit.
Extreme poverty, where families are unable to afford regular meals, wash clothes or provide their children with basic items such as beds and sheets, is becoming more common, according to frontline family support workers.
Health workers and social workers from over 600 organisations say they have seen an increase in the number of families that are destitute and in need of basic financial support.
NHS staff, council officials and gig economy workers are among the most regular applicants for payday loans, which charge interest of up to 1,325 per cent per year.
Household debt has soared by a third to record levels in the past decade as workers struggle to cope with the impact of a prolonged squeeze on wages.
Children
About 200,000 children are living in absolute poverty in Britain and more than four million live in relative poverty according to government figures, one million more than in 2010. Seventy per cent of children in relative poverty are from working families, the highest proportion for 60 years.
Teachers report worsening signs of child poverty in their classrooms with pupils arriving at school tired, hungry, angry and confused. Many wear dirty or ill-fitting clothes and suffer from anxiety and behaviour issues that affect their learning.
Some schools provide breakfasts, food banks and clothes for their pupils, while many heads in secondary schools say their number one issue is hungry children. Children who qualify for free school meals are twice as likely to be out of work in later life, even when they get good qualifications at school.
Infant mortality rates are now increasing yearly after they had been falling for decades. The UK has one of the highest child mortality rates in western Europe, and England's mortality rates among under-fives is 50 per cent higher than in Sweden.
The Resolution Foundation predicts that child poverty could reach record levels due to welfare cuts. "Today a baby girl born in Liverpool can expect to live 13 fewer years in good health than a baby girl born in Richmond," it reports.
Thousands of homeless children are growing up in cheaply converted shipping containers and cramped rooms in former office blocks, putting their health and well-being at serious risk. At least 210,000 youngsters from homeless families were put up by councils in temporary housing and bed and breakfasts, or forced to 'sofa surf', often for long periods.
Anorexia among pre-teen children is on the rise in the UK, with rates having doubled in 10 years. In addition, there has been a 48 per cent rise in anxiety and depression among British children over the last 15 years. Almost 250,000 10 to 15-year-olds are unhappy with their lives, according to the Children's Society.
Education and youth services
Teachers are suffering from more severe psychological problems than at any point this century, according to Educational Support, which gives help to education professionals. The school workforce is being pushed to "breaking point", it warns, predicting that school standards will fall unless more support is offered.
Almost one million pupils in England are taught in classes of 31 or more, a 29 per cent increase since 2010, while teachers in England have one of the highest workloads in the world with more than half of secondary school teachers saying their job is unmanageable.
In 2018, hundreds of headteachers handed a letter to the chancellor of the exchequer saying their school budgets were in crisis because of years of cuts. They reported swingeing reductions in special needs funding that leave the most vulnerable children without equipment; of bereaved children and depressed teenagers without access to counsellors; of larger classes, staff redundancies and the erosion of curriculum choice.
Local authority youth services have decreased by a third since 2014/15 due to local authority funding cuts of 49 per cent in total since 2010. More than 750 youth centres have closed across the country.
London has lost nearly 100 youth centres since the riots in 2011, as council budgets have been stretched under austerity. Youth services in the capital have been cut by 46 per cent and more than 500 youth workers have lost their jobs.
Meanwhile, knife crime in England and Wales has reached an unprecedented high. Police-recorded offences involving knives or sharp instruments rose to 44,076 annually, accord to the Office of National Statistics, while the children's commissioner says the youth justice system in England and Wales is "chaotic and dysfunctional".
Old people and social care
The proportion of elderly people living in severe poverty is five times what it was in 1986, the largest increase among western European countries.
Life expectancy for the over 65s has dropped by more than six months, a trend causing considerable concern among doctors. Many argue that this is a direct result of the austerity measures of the Tory-led government in 2010.
Seventy per cent of over 75s suffer from an illness that restricts their activities and nearly 10 per cent can go for a week without seeing or speaking to friends or family.
Escalating financial crises in social care has put tens of thousands of older and disabled people at risk of being denied basic support, such as help with washing and dressing.
Some 54,000 older people died waiting for a social care package in 2018, according to Age UK, while the number of older people without care support has hit a record high with one in seven now being left to get by on their own.
Social care consumes a third of councils' funds, yet record 1.4 million over 65s have some measure of unmet need – and the numbers are rising fast.
Housing and homelessness
Thousands of vulnerable low-income private renters are trapped in squalid and slum-like housing while being driven further into poverty by unaffordable rents. Ninety per cent of the 1.5 million households renting in England are being put at risk by harmful conditions or being pushed below the poverty line.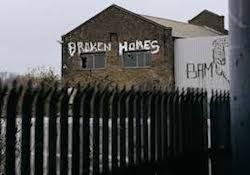 One academic observed: "Make no mistake, some poor families are living in conditions reminiscent of the slums of the 19th century… Just like their Victorian forebears they are often renting from speculator landlords. There is squalor and overcrowding as well as the threat of eviction."
One in three millennials will never own their own home, and renters can be evicted with just two months' notice. Half a million more twenty-somethings are living at their parents' homes, including a 32 per cent rise in the number of those in their late 20s.
The Human City Institute reports that: "Affordable house-building of all kinds has fallen by two-fifths over the last decade blighting the lives of low-income households across the country as homelessness soared and housing needs have worsened."
Santander, one of Britain's biggest mortgage lenders, found that 70 per cent of young people now believe the home ownership dream is over for their generation. In the largest study to date of first-time buyers, it reported that fewer than 25 per cent of 18-34 year-olds will be in a position to buy a home by 2026.
Since 2010 there's been a massive increase in homelessness of all types – rough sleeping, hidden homelessness (such as sofa surfing and sleeping in cars), and the use of temporary accommodation by local authorities. There are now an estimated 320,000 homeless households.
Nearly 600 homeless people died on the street or in temporary accommodation in England and Wales in 2017, up 32 per cent in five years according to government figures. Manchester and Liverpool experienced the largest increases in deaths, more than doubling in five years. Fatalities in the north-east and Yorkshire have risen by 71 per cent and 58 per cent respectively.
Thousands of homeless people in England are arriving in hospital with Victorian-era diseases such as tuberculosis, as well as respiratory conditions, liver diseases and cancer, with hospital admissions surging over a decade.
Health service
The number of patients waiting for an operation has reached 4.3 million, the highest figure for a decade, while two million people are on hospital waiting lists as a direct result of austerity cuts.
"The intense pressure on beds can result in patients being placed in corridors or bits of other facilities, sometimes cramping treatment areas and causing unacceptable stress," according to a BMA spokesperson.
There are 107,000 unfilled vacancies for overstressed NHS staff with almost two-thirds of healthcare assistants performing roles usually undertaken by nurses. In total, the NHS could be short of almost 70,000 nurses within five years in England due to the abolition of bursaries for nurses brought in by former chancellor George Osborne.
Multi-million pound government cuts mean hospitals can no longer afford the most modern scanners and surgical equipment to treat cancers and other diseases. Radiographers are using scanners so old that images impede the correct diagnosis of a patient's conditions. Ambulances are breaking down because they have been kept in service too long.
More than two-thirds of doctors say they have no time for rest and recovery during lengthy shifts while 58 per cent are unable to take even a short break between clinically demanding procedures. Family doctors see as many as 60 patients a day, double the rate they regard as safe.
In 2018/19, 175,094 troubled young people had their NHS mental health appointments cancelled while in the same period the number of referrals of under-18s to mental health services rose by 18 per cent to 405,479.
Patients with serious mental health problems were sent as far as 300 miles from home in 2017 because of widespread bed shortages. This means many lose contact with families, reducing their chances of recovery.
In England, 2,000 NHS mental health staff a month are leaving a service already seriously understaffed and struggling to cope with the surge of patients seeking help for anxiety, depression and other disorders. A total of 23,638 left between June 2017 and May 2018.
People with poor eyesight are forced to wait almost six months for NHS cataract operations, putting them at risk of falling and forcing the NHS to pay for private treatment.
The NHS is running short of life-saving medicines including treatments for cancer, heart conditions and epilepsy, according to a leaked government report.
Pollution
Upwards of 28,000 premature deaths a year in the UK can be linked to the effects of pollution.
Hundreds of children and adults are being taken to hospital for emergency treatment on high pollution days in English cities. On some days, emergency services see more than 120 additional cardiac arrests, more than 230 strokes and nearly 200 more people with serious asthma.
Children's rights charity UNICEF has warned that children in the UK are being denied the right to clean air because of the toxic fumes they breathe on their way to and from school. They face a long-term health crisis as a result.
—-
The figures cited in this article are taken from a variety of sources including New Statesman, The Guardian, The Observer, LabourList, London Review of Books, Left Foot Forward and the Medical Protection Society.