At this general election, the stakes could not be higher, argues ILP chair DAVID CONNOLLY. The Labour Party manifesto launched last week represents a strategic shift and opens up a vision of a different kind of society. A Labour victory is vital.
In launching the Labour Party's general election manifesto last week, Jeremy Corbyn said he welcomed "the hostility of billionaires, bad bosses and dodgy landlords". Given that a third of Britain's billionaires have contributed several millions of pounds to the Tory campaign, he can expect plenty of flak.
The Guardian's Larry Elliott has described it as "the most radical Labour manifesto in years" written by leaders who "don't accept their plans have to get the thumbs-up from the City".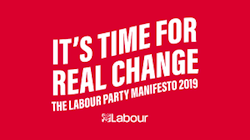 Indeed, it does contain a raft of policies that the political establishment have blocked for a generation. It doesn't just address many immediate problems that are a direct result of austerity but also challenges the assumptions that underpin the dominant economic thinking of the past 40 years.
At its core are the twin aims of reorienting the UK economy around a Green New Deal and rebuilding the public sector. There are bold pledges on creating a new National Care Service and scrapping the hated Universal Credit as well as restoring local authority control of free schools and academies.
The pledges to re-nationalise key utilities and create a new nationalised broadband service come with ideas for worker and consumer participation. Homelessness, the housing crisis and food poverty are addressed by a promise to build one million social homes in a decade and create a Right to Food.
The promise to increase spending on the NHS by an average 4.3 per cent a year, with free annual dental check-ups for all, is a step in the right direction. A ban on zero hours contracts, the return of some trade union rights and a long-term aim to move to a 32-hour working week all seek to redress imbalances between capital and labour that have grown over the past 30 years.
Pledges to put rights and justice at the heart of Britain's foreign affairs extend the aims to the international sphere.
This left-wing form of social democracy, well researched, formidable and ambitious in its range, opens up a debate about what kind of society we want to live in. It's a strategic shift which recognises that tinkering isn't good enough anymore, that a different vision is needed, one that can change the terms of the political debate. We should give credit to all those members and representatives who have contributed to the many policy-making processes over the past four years.
Huge challenge, high stakes
The challenge now is to turn these policies into accessible narratives about greater democracy and empowerment that the public can grasp, making clear what the priorities would be in the first one hundred days. We need to recognise that while much of the public may like many of the policies, many don't believe they can be implemented. That's either because of their own deeply rooted scepticism about politics or the strength of entrenched vested interests, or because they've been led to believe "the money isn't there to do it". In respect of this last point, the manifesto's financial addendum is an important document.
We must also acknowledge the frustrating difficulty many in the party have felt in attempts to build on the groundswell of support generated in 2017, partly due to internal party conflicts.
Overshadowing all this, of course, is the Brexit issue with a large section of the electorate seemingly committed to 'getting Brexit done', regardless of the consequences. To address this, Labour is the only main UK-wide party offering a second referendum. Importantly, this time around it would be a legally binding vote with measures to ensure that leaving or remaining could follow quickly from the referendum result.
The stakes in this election are high, to say the least, and the challenge is formidable. But, in this time of anticipation and anxiety, we must all do our utmost for a Labour victory on 12 December.
—-
You can read the Labour Party manifesto here.
A 'complete guide' to the manifesto is available on the Labour List website here.
Also see: 'After a decade of decay, Labour's manifesto offers us hope for the future' by Gary Younge, and 'Labour's electrifying manifesto should jolt this election into life' by Polly Toynbee, both in the Guardian.