STEPHEN DEAS reports from East Yorkshire where an outbreak of neighbourliness and co-operation are helping the market town of Beverley endure the lockdown. 'There are lessons for all in this, including socialists.'
Beverley is a town of some 30,000 people, a market town and the county town of the East Riding of Yorkshire. It has grown and changed greatly over the last 50 years.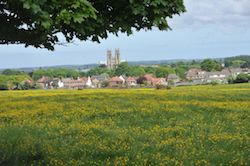 Beverley has been praised as one of the most agreeable places in England to live. There is money here, but deprivation too, as there is, more obviously, in the other East Riding towns and, less obviously, in the villages.
Some workers travel to Beverley for work, while others commute from here to Hull and York, and further still. Trains run daily to and from London. Beverley's mediaeval churches and Georgian streets draw tourists, absent these last seven weeks.
Conservatives form a majority on the East Riding of Yorkshire Council, our local unitary authority, which has not a single Labour member. Of the 13 members of the Beverley Town Council, four are Labour, and there are Labour members on the councils of the adjacent parishes.
When the lockdown began, the East Riding Council suspended Beverley's ancient and thriving open-air Wednesday and Saturday markets, although the Labour town councillors wanted them to continue, with customers and traders keeping the same safe distances as in supermarkets, which have stayed open.
Labour councillors and other party members have helped set up and been active in local mutual aid groups, which arose spontaneously. Their members deliver groceries and medicines, offer advice remotely and listen on the telephone to people who are isolated, perplexed or depressed.
The groups consist entirely of volunteers and work non-hierarchically. Residents are invited to indicate by a sign in a front window if they are in need; a green sign means all is well.
The East Riding Council has provided a helpline for all residents of the county, and it is to local mutual aid groups that callers are often referred for help. The foodbank's depots are not open to users but it will deliver to those in need.
Beverley, like all of East Yorkshire, lies within the Humberside Constabulary Area and the Police and Crime Commissioner is Labour's nominee, Keith Hunter. The police here seem to have enforced the present regulations with patience, wisdom and restraint. Until recently at least, this was the constabulary area where the fewest fines had been imposed. For that, Hunter himself deserves at least some of the credit.
Good neighbourliness
There are few blocks of flats in Beverley and fewer still elsewhere in the area. Most dwellings have a garden or at least a yard. Beverley is especially fortunate to have four very large ancient common pastures to its west and east. These common lands, even in normal times a great public asset and open to all, have in the last seven weeks been of particular value. They are within walking distance of the centre of the town and have been much visited and appreciated for fresh air, exercise and safely distant contact.
Confined to town, I can say little about the Riding's villages. My sister, who farms on the high Wolds with her family, reports that much farm work has gone on as normal. Uncertainty as to how many seasonal workers will be able to come later in the year causes concern.
Beverley's streets are of course emptier than usual – eerily so at night with the pubs, clubs and restaurants closed. Trains and buses carry, at most, a passenger or two but generally run empty. People are anxious to know when and under what conditions schools and the East Riding College will reopen.
Despite such anxiety, so much uncertainty, grief, and fear for the future, there has been much good-neighbourliness – strangers almost invariably speak to one another, maintaining distance with good humour, and queue without impatience. The courage and devotion of transport workers, shop workers, carers, and all who work in the National Health Service, has been beyond all praise.
Isolated to some extent, as we all are, we can know only so much at present. Much more will emerge only in the months to come, not only about the virus itself, but about its effects, personal, social and economic. Much of that may prove dire.
So far, what has been clearest here is the sheer goodness of ordinary people, their readiness to co-operate, and the value of common assets, both those we have been able to use, like the pastures, and those that have been closed to us, such as libraries, schools and churches.
There have been lessons in all this, and encouragement too, for all – not least, for socialists.
—-
This is the fifth in our series on local responses to the coronavirus crisis. Previous reports come from Croydon, Dronfield, Calderdale and County Durham.
You can find them all here.