MATTHEW BROWN reports from east London where Labour members have developed a 'hyper local' model of mutual aid that could help reconnect the Party with its communities.
When news broke in early May that the east London borough of Hackney had the third highest death rate from Covid-19 of any area in England and Wales, it was no surprise to many of us who live here.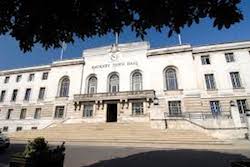 Behind the borough's recently constructed facade of gentrification, with rising property prices and a reputation for youthful creativity and independent enterprise, there is a long history of deeply entrenched poverty – with all the attendant social and health-related problems that implies.
Hackney has long been ranked among the poorest 10% of areas in the country according to indices of multiple deprivation. Combined with its large, long-established and enormously varied black and ethnic minority communities, such a profile made it highly likely to suffer a disproportionate rate of infections and Covid-related deaths.
According to figures released by the Office for National Statistics on 1 May, Hackney had 127.4 deaths per 100,000 people, fewer than the neighbouring London boroughs of Newham and Brent, but higher than anywhere else, and shockingly high compared to the national average of 36.2.
But Hackney also has another long history, one of radical community organisation and grassroots political activity – a tradition that has re-emerged with renewed vigour in response to the crisis, not least in the form of an extensive network of Covid-19 mutual aid support groups.
Based on local authority wards, many of these were set up by Labour Party members, often before the government's official lockdown was announced nearly two months ago.
They now cover every nook and cranny of the borough, from the grand Georgian houses in its western quarters, to its many Victorian terraces, numerous tower blocks, privately rented flats and newly erected 'urban luxury' apartments – all densely squeezed between Shoreditch in the south and Stoke Newington in the north.
Model of best practice
In my own ward of Kings Park, centred around two large social housing estates on Hackney's far eastern edge, the local group was especially quick off the mark with posters appearing on lampposts and shop windows from early March.
It also developed its own ground-up, decentralised structure, which one of its coordinators describes as "a model of best practice" for community support groups around the country, and perhaps even for the future revival of the Party itself.
Hazel Potter is a local branch member and one of the driving forces behind the group.
"We set up very early using Facebook and WhatsApp," she explains. "Then we organised the ward into five specific zones each with a zone coordinator. And then we have individual street coordinators below that.
"It means all our deliveries of shopping and prescriptions, our calls to support the isolated and vulnerable, are with people who are our closest neighbours. The street groups are meeting the needs of people in their own streets hyper-locally."
The knock-on social impact, explains another member, is "much bigger than just helping people in dire need, though there are plenty of those".
"It's breaking barriers," she says. "People have got to know each other who may never have met otherwise. People who have lived here 40 or 50 years have now met people who moved in much more recently as the area has changed and gentrified.
"It's a class thing too," she adds. "People from different backgrounds are discovering each other, often for the first time."
The group has also built relationships with local community centres and a food kitchen, while some members help with benefit claims and others swap skills, tools, books and other now scarce resources. It has raised funds, too, to buy eye protection for workers at the nearby Homerton hospital where ancillary staff, in particular, are desperately short of proper PPE.
For Potter there are lessons in all this that Labour would do well to take on board, not just locally where it remains strong, but in areas where its roots have withered and support declined.
"There's certainly some aspects of our localised approach, using our principles and practices, that the party could draw on to get further involved in communities and community activity," she says, pointing particularly to those infamous 'red wall' regions where Labour's disconnect from local constituents was so starkly illustrated in December's general election.
Council support
Of course, mutual aid groups are far from the only bodies responding to the crisis here, and the range of support activity in Hackney is as varied and lively as the borough itself, from the foodbank to mental health charities to local shops and businesses supplying isolated residents via volunteer deliverers.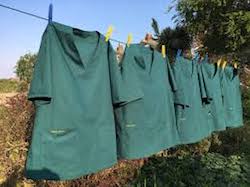 It was in Hackney, for instance, where the first of the 'For the Love of Scrubs' sewing networks emerged, a social media-organised scattering of stitchers who have spent much of lockdown making clothing, bags and headbands for hard-pressed hospitals and health clinics.
Meanwhile, the Labour-controlled council has been a hub for information on the voluntary support available on the ground while keeping almost all its own essential services up and running, and reducing council tax bills by £150 for the most needy families.
Early on, it announced a £100 million support package for charities, commercial tenants, street traders and other local businesses, while it has offered every one of the borough's rough sleepers safe accommodation with food and support attached.
It did this while negotiating carefully around the restrictions imposed under the government's 'hostile environment' policy, which makes its hardship funds ineligible for anyone 'with no recourse to public funding' – so-called illegal immigrants, in other words.
There have been other challenges too, not least enforcing the lockdown rules across Hackney's much-loved parks and green spaces, and in some of its most popular shopping streets.
And there's a cost to all this emergency public spending, of course. Hackney council is reportedly shelling out an extra £4 million a month during lockdown, while losing an estimated £6 million a month in income.
As one councillor put it: "Quite quickly, a very large hole has appeared in the council's budget. If central government expects us to take on the burden afterwards it will rapidly lead to service cuts.
"And none of us want austerity mark two. We've had 10 years; that's enough."
In Hackney, it seems, the political fight over our post-crisis futures has already begun. For its poorest residents, in particular, the stakes could hardly be higher.
—-
This is the sixth in our series on local responses to the coronavirus crisis. Previous reports come from Croydon, Dronfield, Calderdale, County Durham and Beverley.
You can find them all here.