The "extraordinary life and career of Fenner Brockway" is due to be explored in a new blog on the long-time ILPer and anti-war campaigner, set up by Paul Simpson of the 'Lives on the Left' podcast and Hazel Kent of Bishop Grosseteste University.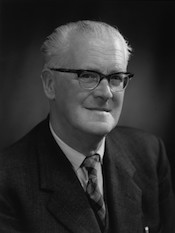 The pair discovered a shared interest in Brockway when Simpson interviewed Dr Kent about the former Labour Leader editor for his podcast. They decided to write a biography "as, remarkably, none currently exists", says Simpson.
"We are currently working on compiling an edited anthology of his writings and speeches, which will be followed by a full biography," he explains.
"The purpose of the website is to publicise the research project, share content about various aspects of Brockway's activism and serve as a point of contact."
So far the blog contains links to Kent's two-part podcast interview, plus an insightful Thames TV interview with Brockway from 1973.
Kent's ILP profile of Brockway, written for this website – 'Standing out for Socialism' – is also available on the blog.
The pair are asking for anyone with sources of information about Brockway – including documents, tapes or even just memories – to get in touch via an online form.
—-