A new podcast series of indepth interviews about leading figures from the history of the Labour movement is now available online, thanks to the efforts of host Paul Simpson, Academic Tutor in History at Sunderland University.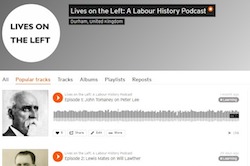 The series called 'Lives on the Left' consists of five episodes so far, each lasting between 45 and 90 minutes.
They include one on Clement Attlee featuring ILP chair David Connolly, and the first of two with Hazel Kent about leading ILPer and peace campaigner, Fenner Brockway.
Dr Kent's profile of Brockway was one of the ILP's 120th anniversary articles published in 2013.
Other episodes in Simpson's podcast series include:
Professor John Tomaney of University College London on the life of miners' leader and reforming north east politician Peter Lee
Dr Lewis Mates of Durham University on Will Lawther, leader of Northumberland miners and MP for Barnard Castle 1929-31
Sunderland University's Dr Sarah Hellawell on Marion Phillips, the Labour Party's first chief women's officer and the first woman MP for Sunderland 1929-31.
Simpson posted the first of his intervews on SoundCloud last month, and hopes to produce 10 in total in the initial series with a second batch already planned for the future.
He is now appealing for donations to help upload more content, subscribe to SoundCloud Pro and to buy a podcast microphone to improve sound quality.
The Lives on the Left podcasts are available here.
You can donate to Paul Simpson's fundraiser here.
—-