One of the ILP's earliest publications has been digitised and added to the British Newspaper Archive (BNA), according to the Scottish Labour History Society.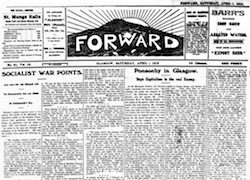 More than 400 issues of Forward, once the Glasgow Independent Labour Party's weekly newspaper, are now available online via the BNA's subscription-based service as well as at the National Library of Scotland and through many public libraries around the country.
Forward was founded in 1906 and 414 editions from January 1916 to December 1923 have been digitised. It was founded by ILPer and Fabian Society member Tom Johnston, who later became a Labour MP.
He joined the Scottish Socialist Party after the ILP disaffiliated from Labour in 1931 and the paper became the SSP's official publication from 1934 until that party's dissolution in 1940.
By then Emrys Hughes had become editor after previously working on Labour Leader, the ILP's national paper. Forward eventually closed in 1959 after various changes in ownership and two periods when it was based in London.
—-