PAULINE BRYAN reviews a major new biography of Sylvia Pankhurst – suffragette, class warrior and tireless campaigner against racism, fascism and imperialism.
Rachel Holmes' excellent new book on Sylvia Pankhurst gives her space to record her subject's involvement in every major political event from her childhood in the late 19th century to her death in 1960. Her big life deserves such a big book.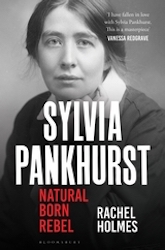 The Pankhurst family were involved in the ILP from its earliest days. Richard Pankhurst was a well-known and well-loved lawyer who used his professional skills to support individuals and campaigns. Emmeline and he had an open house for visitors from all over the world travelling through Manchester. The Pankhurst children were expected to work for the ILP and other causes. Sylvia kept up an extraordinary level of work for the rest of her life.
After Richard Pankhurst's death the ILP raised money for a new building called Pankhurst Hall and Sylvia, who in another life would have been a successful artist, created remarkable designs for the interior which received high praise from her mentor, Walter Crane. It was only after the opening that the Pankhurst women discovered they were not permitted to join the branch of the ILP that was housed at the Hall as it was men only.
The author points out that while women played an important role in the ILP, made up a significant part of the membership, and held office in the organisation, there were leading members who actively opposed votes for women. Despite this the Women's Social and Political Union (WSPU) initially formed itself expressly as an affiliate of the ILP. There were, however, many women in the ILP who continued to campaign for universal suffrage rather than the WSPU position of votes for women on the same basis as men, which excluded the majority of both men and women.
Class was at the centre of Sylvia's politics. She believed that "without a class analysis, feminism was a minority campaign group for rich and middle class women…" This is the key to understanding what separated her from her mother and sister.
These differences are described by the author as a microcosm of what was happening in the WSPU. As it became more of a guerrilla army than a movement it inevitably became more autocratic.
Sylvia did not shy away from militancy but wanted it to be open. She never avoided arrest and at one time she held the unenviable record for the number of times she had been force-fed. Her concern, however, was also for less well known women who, when arrested, received harsh punishment and for whom "there would be no international telegrams".
Patriarchy and puritanism
The experience of many suffragettes during the struggle reinforced their hatred of patriarchalism. A close-knit community of women who trusted and supported each other allowed the development of deep and lasting friendships. Lesbian relationships blossomed where women were acknowledged as partners. But there was also within the movement a moral puritanism that rankled with Sylvia. She felt that her sister Christabel was reaching out to the "hidebound middle-class moral-purity movement".
Some of her fellow suffragettes claimed that Sylvia collaborated with patriarchy in her intimate relationship with Keir Hardie. She and Hardie supported each other when Sylvia was attacked by her mother and sister in their roles as leaders of the WSPU, and when Hardie was condemned by many in the party for being too close to the WSPU.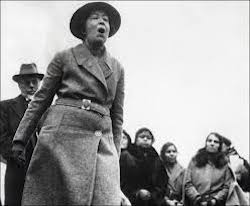 She was linked to every political battle of her time and knew most of the people involved. From the birth of the Labour Party, the creation of new trade unions, the struggles in Ireland, including the 1913 general strike and the 1916 uprising, the fight against poverty and degradation in the east end of London, opposition to fascism in Europe and Britain, the founding of the Communist Party and the post-war resistance to British imperialism.
During her later years she was dedicated to the rebuilding of Ethiopia where she worked until literally the last day of her life. As the author says, while the Pankhurst name will always be associated with the fight for women's suffrage, for Sylvia "by far the larger part of her life was dedicated to fighting the evils of racism, fascism and imperialism".
Sylvia gave much of her earlier political life to winning votes for women so it is surprising that she moved to an abstentionist position. She came to believe that "on principle, revolutionaries should never participate in bourgeois parliamentary activities such as voting or running for parliament". She put her efforts into rallying support for the Russian revolution, establishing the People's Russian Information Bureau to counter the anti-Soviet Russia propaganda.
Along with other delegates, she and Willie Gallagher attended the Communist International in 1920 and both dissented from Lenin's position that the Communist Party of Great Britain should seek affiliation to the Labour Party. Sylvia argued that Lenin overestimated the size and influence of the Labour Party. The title of Lenin's repost to them was Left-wing Communism: An infantile Disorder. Sylvia referred to it as Left Childishness, which for her harked back to the suffragettes' experience of being treated like unruly children.
Sylvia lived with the Italian anarchist Silvio Corio for more than 35 years. They worked tirelessly, producing journals and pamphlets, organising meetings and offering hospitality to activists from all over the world. Corio was quick to identify the threat from Mussolini which led to Sylvia's decades of involvement with Ethiopia and an unlikely friendship with Emperor Haile Selassie. Sylvia told Selassie that she supported him not because he was emperor but because she believed in the cause of Ethiopia.
Nelson Mandela wrote of Ethiopia as "the birthplace of African nationalism" and of Selassie's influence as the shaping force of contemporary Ethiopian history, explaining how the Ethiopian example inspired and contributed to the formation of the African National Congress.
Sylvia's life ended in Ethiopia with her son and daughter-in-law alongside her, working to build a modern independent country. There she renewed her friendship with many of the leaders of the newly independent African countries and on her death was given a state funeral.
She had already written her own epitaph: "When victory for any cause came, she had little leisure to rejoice, none to rest; she had always some other objective in view."
—-
Sylvia Pankhurst: Natural Born Rebel, by Rachel Holmes is published by Bloomsbury Publishing and available in hardback (£31.50), Ebook and Audio.
Pauline Bryan is the editor of What Would Keir Hardie Say? and Keir Hardie & the 21st Century Socialist Revival. She is a member of Scotland's Campaign for Socialism, the Red Paper Collective and the Keir Hardie Society. In 2018 she became a Labour Peer in the House of Lords.