Our dear friend and comrade Eric Preston died on 20 September. He was a driving force in the ILP for 60 years, shaping much of its perspective and political thinking. ILP chair DAVID CONNOLLY gave the eulogy at his funeral in Leeds on 8 October.
It is a great honour to be asked by the family to give the eulogy today for our dear friend and comrade, Eric Preston. We will miss him greatly but today is an opportunity to remember his contribution to all our lives.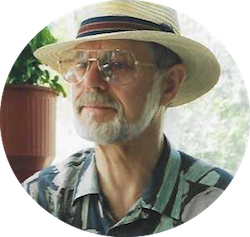 Eric was born to loving parents, Frank and Dorothy in Ossett on 15 June 1932 and he came into this world weighing 14 pounds. His father was a miner and unfortunately a serious accident at the pit put Frank in hospital for 18 months.
As money was tight, to say the least, Dorothy had to walk to Leeds to see her husband and Eric was often fed by the neighbours during this difficult time. His mother was horrified that she had to rely on their help in this way.
Unable to continue as a miner, Frank had various jobs including at one time managing Ossett Conservative Club where the family lived for a while. Eventually they moved to Leeds where Eric's brother, John, was born in 1946.
Eric left school at 14, his teacher telling him that he would make "a very good lorry drivers' mate" – and Eric never even learned to drive.
He had several different jobs before signing up for the RAF for three years where he was a keen rugby player. One weekend Eric wasn't able to play. He went to see the plane carrying his team return but tragically it crashed on landing killing several of his teammates.
Covered in aviation fuel, he was badly affected by the experience of digging them out, hence his subsequent fear of flying.
While stationed for a year in Ceylon (now Sri Lanka) he saw so many wounded soldiers evacuated from the war in Korea that when he came home he assumed the streets would be full of the maimed and injured.
Angry and frustrated with the world, Eric's political views at this time were distinctly right wing.
It was while working with Doreen Towler at the Co-operative Insurance Society that he met her husband, Dennis Towler, who was on the left. Eric, Joan, Doreen and Dennis went on a cycling holiday in 1954 during which Dennis challenged Eric's conventional assumptions about British society and the world in general.
Immediately afterwards Eric read as much as he could about left-wing politics, including George Bernard Shaw's Everybody's Political What's What and Robert Tressell's The Ragged Trousered Philanthropists.
It profoundly changed the way he thought and briefly led him to join the Communist Party, which he left in 1956 following the Soviet invasion of Hungary.
Eric and Joan had first met when he was 17 and she was 15. He asked her to write to him when he joined up. They were married on 31 July 1954, a marriage that was to last 66 years. Robert was born in 1960 and Karen in 1962.
Joining the ILP
Seeking a new home for his radicalism he joined the Independent Labour Party in 1957 which, although it had ceased to be an electoral force of any significance, was nevertheless very active in many single issue campaigns.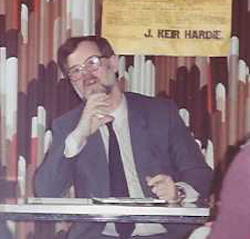 Through the ILP, Eric became involved with the Dobbin campaign to stop the hanging of a Castleford miner in Armley jail; with the Campaign for Nuclear Disarmament and the Committee of 100; and with Spies for Peace. In 1961, he and his friend Brian Hawkins were arrested at a sit-down protest at Holy Loch, home of Britain's Polaris nuclear submarines.
It was during this time that Joan and Eric became lifelong friends with Joan and Bill Christopher. They would travel to London most weekends to stay with them and their children Lesley and Aileen. Once Robert and Karen had arrived the visits became less frequent but the families remained close in the decades that followed.
During Spies for Peace, Bill's anarchist friends obtained information about the location of a secret regional seat of government to be used by an elite few in the event of nuclear war. Bill and Joan's house was raided by the police and around the same time that Eric was given similar documents to look after.
With their house in Leeds under police surveillance, Eric and Joan wondered how to get the plans to a safe place. Joan hid them in the bottom of Karen's pram, took them to a sympathetic pharmacist who passed them on to ILPer Ann Mallorie, who made sure they were secure and could be used to publicise the absurdity of the nuclear arms race.
Eric also met several university lecturers during the Dobbin campaign who encouraged him to think about going into higher education and in 1965 he became a mature student at Leeds University where he studied politics and sociology.
In doing so, he was following the example of his friend, Lewis Minkin. Although his student grant was more than his previous wage, money was still short and Lewis kindly paid Eric's telephone bills (which I imagine were quite considerable).
A year later Joan began her course at the James Graham Teacher Training College in Horsforth.
In his final year Eric organised weekly meetings of fellow students on his course to discuss issues and share ideas, gatherings that started at 7pm and finished at 2am.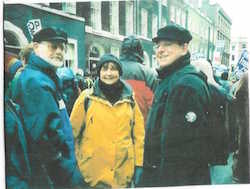 It was also at university that Eric met Barry Winter. Barry (pictured here with Eric and Joan) asked him for one of the leaflets he was distributing in support of the seamen's strike and was promptly given a handful and told to start giving them out himself, which he did. Shortly afterwards Barry joined the ILP.
On graduating Eric taught at Park Lane College and then became a lecturer at Leeds Polytechnic where his TUC classes for shop stewards were popular and he was noted for his patience in explaining complex issues, a characteristic we all became familiar with from his speeches and writing over the years.
In those days Eric and Joan attended the week-long ILP Summer Schools, which became the annual family holiday with Eric's Mam and Dad looking after the children while the parents attended lectures. Dorothy and Frank became members of the ILP, as did his brother John.
In 1971, Eric and Danny Kennally went to Belfast to investigate the role of the British Army in nationalist areas and they later published Belfast 1971: A Case to be Answered.
Working with a younger generation of ILPers – including Barry, Bill and Joan, Anne-Marie Graham, Alistair Graham, Pat and Vin McIntyre and Pauline Bryan – Eric set about the difficult task of persuading the organisation to re-join the Labour Party. After a prolonged debate, this aim was realised in 1974.
There followed an intense period of political activity in which Eric developed his ideas on how the socialist case might be advanced both within and beyond the Labour Party.
During this time he also was the organiser for the Leeds Keep Britain Out campaign in 1975 and, with John Gunnell and a hard working team of volunteers, he edited the Labour Party's Leeds Weekly Citizen for four years from 1976.
Despite political differences, his relationship with his MP, Merlyn Rees, was one of friendship and mutual respect.
As well as writing numerous articles for Labour Leader, the ILP's monthly paper, and the ILP Magazine, a quarterly journal, he helped shape ILP campaigns on local government, youth training, the poll tax, Northern Ireland and democratic, participatory reform of the Labour Party.
His unorthodox approach often challenged many long held assumptions. It was largely down to his independence of thought that the ILP occupied a unique place in the sometimes harsh debates on the left. Whatever the differences, however, Eric always operated in a spirit of intellectual inquiry and comradeship.
Ahead of his time
Eric's key work was Labour in Crisis, published in 1982 with a foreword by Eric Heffer MP. Reading it again a few months ago it's remarkable how many of the underlying concepts are still applicable today. He was ahead of his time and there are distinct echoes of his arguments in the debates going on in today's Labour Party.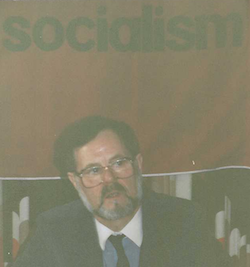 In so many ways his approach to politics epitomised Gramsci's dictum that socialists should combine 'the pessimism of the intellect with an optimism of the spirit'.
Perhaps he should have published more of his thinking but sometimes the search for clarity became a quest for perfection. Looking back, perhaps we should all have been much stricter with him – not that it would have made much difference!
Anne-Marie worked on the text of Labour in Crisis for a long time and thought she had managed to edit out a multitude of 'heretofores' and 'thereafters' only to find that Eric had put the vast majority back in the night before she took the manuscript to the printers.
Responding to the miners' strike in 1984/85, Leeds ILP, with Eric organising, produced and sold a phenomenal 20,000 mainly hand-coloured badges to support striking miners and their families holding the line at Markham Main and Hatfield pits during that long and bitter struggle. Alistair provided most of the designs.
Behind his fierce intellectual rigour, and a steadfast commitment to debate and argument, which initially some could find difficult, there was a man who was kind, charming, welcoming and endlessly hospitable to friend and foe alike. Many people in need benefitted from his advocacy and advice, and all were welcome at Dewsbury Road.
And it wasn't all hard slog. Eric delighted in organising group holidays for family and friends, such as camping trips to Whitby adn Norfolk in the early years. Later he hired large (sometimes palatial) houses and cottages in the Yorkshire Dales, the Lake District or Northumberland.
Many of us have lovely memories of these times together which, in later years, would not have been possible without the support of Jan and John Cartain.
Joan and Eric's New Year's Eve parties attracted at least 60 people and on one occasion they catered for 100 at Morley Town Hall.
Eric was also a painter, wrote poetry for children and took care to welcome new members to the ILP and the Labour Party.
In his 2009 talk This World of Ours Eric wrote:
"The left's critique of the present is of vital importance in the development of ideas and the contribution it can make to the shaping of informed public opinion.

"It is essential that the incoherence, contradictions and conflict of interests within the system be exposed, and that the consequences and potential consequences of contemporary developments be manifest.

"We need to emphasise the essential nature of an ever-expanding global economic system that, driven hard by the profit motive, must forever encourage a pursuit of wealth and a self-centred consumerism, and thereby drive us beyond the limits of the earth's resources and towards a major humanitarian and environmental crisis."
Eleven years on, we are now facing multiple political, social and economic crises that threaten the existence of humanity itself. Eric saw this coming more clearly than most.
Despite worsening health problems, Eric's tenacity enabled him to attend ILP meetings until 2018 when he just couldn't manage it physically any more, a lifetime's dedication to the organisation that was quite remarkable.
And, despite all his difficulties, even to the end he retained his interest in politics.
I know the selfless care, support and friendship that Jeannine Sudworth has given to both Joan and Eric over a long period was and is appreciated by the family. They would also like to thank all the doctors, nurses and carers who looked after Eric over the years.
Our sympathies go to Joan, Robert and Jane, Karen, Liz and Alfie, Emma and Alex.
Eric's passing is a profound loss for us all. But his thoughts and values, and most important of all, his love will live on.
The early ILP 'lived for that better day' – and so did Eric Preston.
—
Eric's wish was that any donations in his memory should go to Medicins Sans Frontier or the Red Cross.
You are welcome to leave your own memories of Eric in the Comments section below.
An obituary based on this eulogy has now been published by The Guardian.