Antisemitism in the party will only be tackled when Labour members left and right accept the problems and come together in a spirit of tolerance and respect, says MARY STRATFORD. 'We must begin to repair the damage.'
Like many Labour members, I watched with bemusement and growing anxiety as the antisemitism row within the party spiralled out of control until it found itself under investigation by the Equalities and Human Rights Commission (EHRC). This was despite an internal report into the issue by Shami Chakrabati in 2016 that produced, in my view, a very welcome blueprint for the way forward, one which was hardly implemented.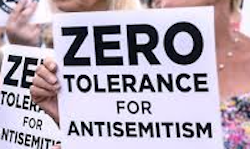 There is no doubt the failure of the party, including Jeremy Corbyn's leadership, to act on that report and confront the issue head-on led to increasing concern among the Jewish community and party members, and ultimately to Labour finding itself in such a shameful position.
I am sure accusations of antisemitism were sometimes 'weaponised' to attack Corbyn and his leadership, but the reality is that there is a problem in the party and no amount of denial changes that.
It is particularly evident on social media. As a regular Facebook user, I have seen antisemitic language and tropes circulated on a frequent basis, including by party members, and found myself challenging them.
The difficulty is, despite a clear recommendation in the Chakrabarti report, there are no party guidelines on unacceptable online language. These are urgently needed as the culture of intolerance and abuse on social media continues to grow, particularly when contentious issues are being discussed.
That's not to say, for example, that the actions of the Israeli government and their impact on the Palestinian people should not be criticised and challenged. Indeed, it is perfectly valid to do so. But it is not valid to use antisemitic language and tropes when doing so, and some on the left seem unable to distinguish between the two.
It is all too easy on social media to find yourself liking or circulating a post which on the surface appears to reflect your own views, but on closer examination contains language that could be regarded as discriminatory – something Rebecca Long Bailey discovered to her cost.
Indeed, the difficulty of negotiating such tricky terrain means some comrades feel terrified about discussing issues for fear of being labelled antisemitic – hardly the basis for an open and honest discussion.
Considered and balanced
On reading the EHRC report I was struck by the considered and balanced nature of its findings which, while making for depressing reading, seemed to recognise the key failings of the party and offer a way forward.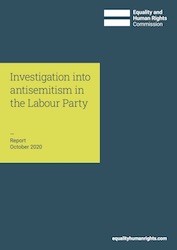 It focussed not just on the poor treatment of complainants, and a lack of transparency and fairness in the party's disciplinary process, but also on the unacceptable treatment of respondents. This is something I became aware of when a good comrade was suspended, someone whose actions I did not feel to be antisemitic.
However, the EHRC did not flinch from emphasising that the complaints they investigated only touched the tip of an iceberg and the report concluded that the whole affair has caused considerable distress to the Jewish community. In particular, it said, there had been a drastic failure of leadership.
Like many, I hoped the report's launch would allow us to focus on finding a way forward, that there would be no repeat of the disastrous headlines that followed the Chakrabarti report when the outrageous behaviour of one party member toward a Jewish female MP completely overshadowed its findings and the party's response.
I also hoped the EHRC report would open a period of reflection for all within the party, whether left or right, and finally force us to work together to confront the problem. For too long the issue has been used as a political football, resulting in polarised opinions that range from accusing the Corbyn leadership of being inherently antisemitic, on the one hand, to a complete denial of the problem, on the other.
So it was with horror and despair that I watched events unravel on the 29 October, triggered by Corbyn's initial statement and followed by the leadership's rapid response.
It's worth saying that Corbyn was entitled to express an opinion. Indeed, the report specifically alludes to that right when it says:
"Speech does not lose the protection of Article 10 [of the European Convention of Human Rights] just because it is offensive, provocative or would be regarded by some as insulting.
"Statements made by elected politicians have enhanced protection under Article 10.
"Relevant factors will include whether speech is intended to inform rather than offend, whether it forms part of an ongoing debate of public interest and whether it consists of alleged statements of fact, or of value judgment."
However, while he had a right to speak, Corbyn did not properly consider his duty as the former party leader to exercise good judgment and restraint. Indeed, the Chakrabati report referred to that need to "consider your duty" when exercising the right to free speech.
In particular, my heart sank when Corbyn said: "One antisemite is one too many, but the scale of the problem was also dramatically overstated for political reasons by our opponents inside and outside the party, as well as by much of the media."
It was, in my view, entirely unnecessary for him to use such inflammatory words (especially while we are still waiting for the Forde inquiry into the party's own report). Not surprisingly, the focus of the story immediately became Corbyn's statement, not the EHRC findings nor the party's response.
Voices of reason
However, I think the decision to suspend Corbyn, taken less than two hours later, was equally misjudged and disproportionate, as was the following shutdown of any debate or discussion within the party. Those actions could only inflame and further antagonise an already fractious situation.
Predictably, some on the left, already feeling under attack, responded by defending the former leader. (Indeed, I signed a petition myself to reinstate him even though I think he placed the current leadership in a very difficult position). More worryingly, some used the row to again deny the reality of the problem even though it has now been acknowledged in two comprehensive investigations.
And so now the party is engaged in a civil war just when it ought to be formulating a much-needed action plan to implement the report's findings and eradicate once and for all the stain of antisemitism.
This cannot continue. We can only hope that behind the scenes interventions are taking place to try and resolve the situation and find a way forward. Corbyn's 'clarifying statement' to the party today (Tuesday) is a start. I hope voices of reason will prevail and the party can finally confront an issue it has comprehensively failed to address to date.
We on the left have a responsibility to challenge all forms of racism, including antisemitism. It is time to concentrate on confronting the behaviours that have brought us into disrepute.
As former Momentum chair and ex-Labour NEC member Jon Lansman put it in a recent interview on Labour List:
"I never expected to find antisemitism in the Labour Party and I did find it. I found it in appalling ways in the stuff that I saw in disciplinary cases. I'm frustrated at the level of denial there is in the party… A lot of the people who are in denial, if they saw this material, I think many of them would adjust their position – maybe not sufficiently in some cases, but there is no basis for saying it is lies or a smear."
The issue of antisemitism must not get lost in all the furore. We must begin to repair the damage.
—-
You can download the EHRC's investigation into antisemitism in the Labour Party here.