JAIME REYNOLDS reveals the remarkable achievements of four unknown ILP women who became important local government leaders between the wars but have since been left out of Labour history.
GRAHAM TAYLOR'S biography of Ada Salter, the first Labour woman mayor – of Bermondsey in 1922 – recounted the life of one of the women pioneers in local government.
Some 150 women mayors served between 1907, when women could first stand for election to borough councils, and the outbreak of the Second World War. These included another 34 Labour ones after Salter – a handful in the 1920s and increasing numbers in the 1930s as Labour strengthened its position in local government, particularly in and around London.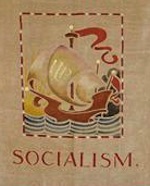 This was a time when the political and civic cultures of many towns flourished: local government figures were well known and enjoyed high prestige. Also many public functions in fields such as health, housing, public assistance, education and urban planning were expanding rapidly, while the centralised institutions of the welfare state had not yet crystalised. Local government therefore carried many of these responsibilities and the role of councillors, aldermen and mayors, especially in the more activist authorities, was correspondingly heavy.
The women who became first citizens were often remarkable personalities who had risen to the top after decades of political, social and civic work, overcoming the many obstacles that stood in their way in what was still very much a man's world.
A large proportion of the early Labour women mayors were middle class, ex-Liberal progressives, like Ada Salter. Others came into politics through the Co-operative Women's Guild, the Railway Women's Guild or the Marxist Social Democratic Federation.
At least four, apart from Salter, were activists in the ILP: Annie Mercer (Birkenhead 1924), Ethel Wainwright (Mansfield 1929), Nellie Shimmin (Leyton 1937) and Edith Weston (Basingstoke 1937).
Annie Mercer
Mary Annie Mercer (née Chettar) stands out. She was the first working class woman mayor and the only one from Labour to serve outside London, the south east and midlands before 1939. (There were no Labour women mayors in Wales or provosts in Scotland.)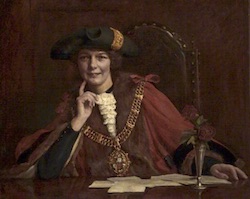 Annie (pictured left) was brought up in rural poverty. The details are obscure but it seems she was the illegitimate child of a Shropshire woman who had been working as a servant in Manchester when Mary was born in 1883.
Brought up by various members of the extended Chettar family, who were agricultural labourers, in remote parts of Shropshire and Staffordshire, she had little schooling but somehow educated herself. She later recalled that she spent her days wandering about the fields and lanes "talking to the old country folk of the district, learning of the adventures and hardships of their lives".
Religion, presumably nonconformist, probably played an important role in shaping her. She trained to be a nurse for a time, and worked as a housekeeper, but by her late 20s was living in Belfast as a church worker. It was there that she became interested in socialist politics while visiting the poor in the city's slums. She met Ernest Mercer, a Daily Citizen journalist and Labour activist, whom she married in 1912.
The Mercers moved back to Birkenhead, Ernest's hometown, in 1914 and Annie established herself as an organiser and charismatic public speaker for the ILP. At this time she was described as "a slim, active woman, and those who have heard her speak in the open air readily understand her great power with the women in the poor districts. She is one of those valuable people who can make a very direct appeal to the most downtrodden, overworked classes of the community – the women of the slums."
She was elected as a councillor for a dock area in 1919 and remained on the council until her death in 1945. Annie was an important figure in local government and the Labour Party on Merseyside throughout that period. She was the natural choice as first Labour mayor (women were very rarely the first chosen), chair of the key public health committee, and twice a Labour candidate for parliament (Liverpool Fairfield 1924 and Birkenhead West in 1935).
She also played a pivotal role in the completion of the Mersey Tunnel. According to the Liverpool Tory boss Sir Alfred Salvidge her courage in overcoming opposition to the tunnel "was the deciding factor".
Ethel Wainwright
Ethel Wainwright (née Wilmot) was born in 1877 in Sheffield and brought up in Manchester. Her father was a stationmaster and she married Albert Wainwright, a railway clerk, at the turn of the century and moved to Mansfield.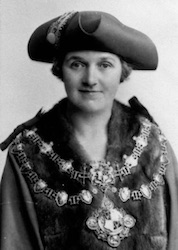 She entered public life through the temperance and suffragist movements, and was also involved in the Adult School and poor law work (she was a member of the Board of Guardians from 1919-30).
She was also religious, though her denomination is not certain. This was a fairly typical background for many Labour and Liberal, and even some Tory women mayors. By 1917 Ethel (pictured left) was sufficiently prominent to be appointed to the wartime Food Control Committee.
She was briefly a councillor from 1920-23 and then again on the council from 1926 until at least the late 1940s (as mayor again in 1946). She was chair of the education committee for 18 years and played a central role in developing the school system in Mansfield, where one of the local schools is still named after her. She was awarded the Freedom of Mansfield in 1948 for her services to the town and education by the Minister of Education, George Tomlinson.
Ethel was a staunch socialist. She was a leading member of the Mansfield ILP in the mid-1920s as well as of the borough Labour Party. Unfortunately few details of her ILP work are known.
Nellie Shimmin
Nellie Shimmin (née Bishop) was born in 1878 the daughter of an agricultural labourer in Cirencester. She was bright at school and qualified as a schoolteacher. By 1901 she was working at an elementary school in Leyton.
It was there that she met John Shimmin, also a schoolteacher. It seems that both were already committed socialists and trade unionists when they married in 1906.
Nellie was associated with Margaret Ethel MacDonald in the early years of the Women's Labour League, while John was very active in the National Federation of Assistant Teachers and an organiser of the National Teachers' Socialist Society. They were both keen members of the Leyton ILP, of which John was secretary, including during the First World War when the Shimmins were active peace campaigners. Nellie's brother was killed in action in France in 1916.
In the 1920s and '30s the Shimmins became a leading political duo in Leyton. Nellie was an active ILP worker – speaking at the inaugural meeting of a new branch in 1925, for instance, which ended with the singing of the 'Red Flag'. In 1923 and 1924 she stood for Leyton Council and the next year for Essex County Council, losing each time. John won a seat in the 1926 elections, but Nellie did not get onto the council until 1929.
They remained prominent figures in the Labour group until about 1945, latterly as aldermen. John was mayor in 1931 with Nellie as his mayoress. She had the pleasant duty of laying the foundation stone for a brand new maternity clinic and child welfare centre. Nellie served as mayor in her own right in 1937.
Edith Weston
Edith Weston (née Clarke) was born in 1883 in Northumberland into a middle class family. Both her father and grandfather were Inland Revenue officials and her husband from 1906, Thomas, was a Customs & Excise officer. They moved around the country for some years before settling in Basingstoke after the First World War.
Edith must have been a committed socialist by this time. Her political engagement may date from before 1914 – she had been a militant, non-violent suffragist in the Women's Freedom League.
In 1919 she joined Basingstoke Labour Party and started a women's section, which she ran for the next 20 years. She also started an ILP branch in 1920 and remained in the party until disaffiliation. She was then active in the Socialist League.
She was a convener for the Left Book Club in Basingstoke and served as chair of the divisional Labour Party. She stood for parliament twice in Basingstoke in 1935 and 1945.
Her council career began with her election as councillor in 1929 and she remained on the council at least until the late 1940s. She was also a member of Hampshire County Council. Edith died in 1956.
Written out
These four women who played a significant part in the rise of the Labour movement in their districts and the development of their towns in the inter-war period are today almost entirely forgotten. The same is true of many of the other 150 or so women mayors that I am researching, but it is particularly the working class Labour women who have been written out of history.
I am currently writing a book that aims to fill this void. Many elements of the life stories of the Labour women are missing, not least their links with the ILP. Indeed it is likely that other women mayors, apart from the five mentioned here, had as yet undiscovered connections with the party.
—-
Dr Jaime Reynolds is an independent researcher who has written extensively on British and European politics.
If you have any information – including images – relating to any women mayors in the period up to 1939 please get in touch with the author through the Comments box below, or via email.