The TUC is asking union members and reps to share positive stories of how they have supported colleagues during the Covid-19 pandemic as part of its HeartUnions week taking place on 8-14 February.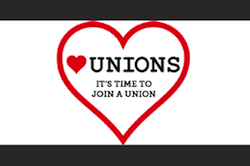 The week is described as "a chance to tell the story about why unions are vital for everyone at work, and encourage people who aren't yet in a union to join one".
"2020 was a tough year," it says. "But we know that reps and members have stepped up and supported their colleagues and workplace in amazing ways.
"We would like to celebrate and share those positive stories to inspire people to join a union and show the power we have when we work together."
The week has two aims:
to demonstrate how what unions can achieve for working people – especially during the pandemic
to encourage all union members to ask someone they know to join one too.
Union reps and members will be provided with resources to help them get more people to join a union while the TUC is calling for individual unions to run their own HeartUnions campaigns highlighting what they've done for members.
The campaign will be represented on social media by hashtag #HeartUnions which can be used to stay in touch with what the TUC and unions are saying, and to publicise activities.
"Over the last year unions have demonstrated their relevance and effectiveness like never before," says the TUC. "Let's use #HeartUnions to say loudly and proudly unions are brilliant – join one today."
—-
Click here for more information on #HeartUnions Week.