Inverness ILPer LEWIS WHYTE reflects on his experience as a Labour candidate in the north of Scotland during the recent elections where the party under Anas Sarwar is slowly building a base for the future.
This was my second run at elected office and not one I'd really planned for. I'd signed up to be on Scottish Labour's regional list for the Highlands and Islands and was expecting to campaign largely in Inverness. But then a couple of months before the election I was invited to be the candidate for Argyll and Bute.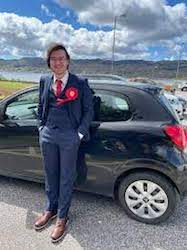 I'm not from Argyll and Bute, but the Highlands is my home and I'm always prepared to fight for the Labour cause here. So I agreed and, following a unanimous confirmatory vote by the CLP, was selected as the constituency candidate for Holyrood seat.
There are many local issues facing the constituency – an ageing ferry fleet; the ongoing mess that is the 'Rest and Be Thankful' road pass on the A83; the lack of social housing; depopulation; concentrated private land ownership; pressures on the housing market from short-term letting (the AirBnB effect); plus non-locals snapping up houses as second homes, especially since the start of the pandemic.
These are just the few of the issues and I'm proud that Scottish Labour put forward manifesto commitments to tackle them. I'm particularly proud to have been heavily involved in developing our policy on second homes. Scottish Labour is the only major political party to propose any measures for dealing with this issue.
There were a number of positive achievements during the campaign. Social media advertising was extremely effective, reaching a total of 21,015 voting-age Facebook users, one third of the electorate, and could have been more effective using additional platforms such as Snapchat and Instagram.
There are ethical concerns here, particularly around giving money to Facebook, which owns both Snapchat and Instagram. However, you can't rely on leafletting when you need to campaign across an area of nearly 7,000 square kilometres, including a large mainland and 23 inhabited islands, during a pandemic.
Dialogue & goodwill
Another particularly effective part of the campaign was phone banking. Although not as effective as door knocking, which was only allowed during the last two weeks of the campaign, phone banking did give us a chance to speak with people in more isolated areas who usually aren't canvassed due to low population and high travel times. Dialogue, the party's phone banking web app, is an incredible addition to our campaigning tools and the development team deserve our admiration.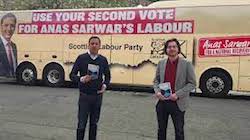 The most positive result in the campaign was the strong sense of goodwill toward Scottish Labour. I put this down to the excellent job that Anas Sarwar has done. His leadership has given Scottish Labour a unity of purpose we haven't had in some time. While it's unfortunate that this goodwill did not turn into votes, it does put Scottish Labour in a good place to start campaigning for the upcoming 2022 Scottish council elections.
Apart from losing our second seat in the Highlands and Islands region, the most disturbing aspect of the election was that the Scottish National Party broke the unwritten rule of Highlands and Islands politics – don't campaign on Sundays. While historically this has been for religious reasons, these days almost all candidates are keen to maintain this weekly pause on the grounds that we all need a break from the 24/7 job of campaigning – and Sunday is as good a day as any.
What this means for 2022 and future elections in the Highlands and Islands I don't know, but it has been a benefit to our political culture and as aspect I'd like to see continued and expanded across the country. We should consider legislating for non-campaign days – for the sake of the mental health of candidates, especially those who work full time, and to give voters a bit of peace from the campaigns.
We do politics to improve lives, we don't live to do politics.
—-
Lewis Whyte was Labour's Scottish parliamentary candidate for Argyle and Bute.
You can read his website here or follow him on Twitter here and Facebook.