As world leaders gather in Glasgow for COP26, Sheffield Hallam Labour MP Olivia Blake has launched a climate manifesto built from the ground up. WILL BROWN reports.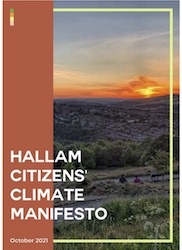 Much of climate politics operates at a level far removed from ordinary people. But Sheffield Hallam MP and Shadow Minister for Nature, Water and Flooding, Olivia Blake has worked with her constituents to produce a locally-based manifesto on climate change.
Blake held a series of 'climate assemblies' over the course of 2021 to hear and discuss the climate crisis priorities of Sheffield citizens. Held over Zoom, the assemblies drew in participants who might not otherwise have attended climate change meetings.
"Previous COP summits have unfortunately been talking shops of world leaders divorced from reality," Blake told the Sheffield Telegraph when launching the Hallam Citizens' Climate Manifesto that emerged from the discussions. "If any transition to a green future is to be successful, the decisions taken must be truly democratic, led by those who will be affected."
The manifesto itself covers many topics now familiar in climate politics – calls for more and cleaner public transport, for more energy efficient housing, for changes to our food and agriculture systems, and support for biodiversity.
However, it also gives these a local emphasis that high-level discussions sometimes lack, highlighting how large-scale policy aims might be realised at constituency or city level. Tackling the need for key transport corridors in Sheffield, decarbonising the steel industry, and maximising and accessing green and wild spaces, all feature as local concerns.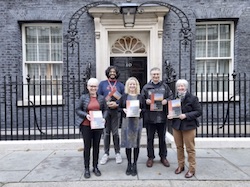 The manifesto also addresses issues of international equity and climate justice, calling for the government to restore its commitment to spend 0.7% of national income on development aid. And it supports a green industrial strategy – a key plank in Blake's election campaign – emphasising that the pursuit of green jobs is an opportunity, not a cost.
As Blake says: "Only by giving everyone a say will we be able to ensure that climate action is not continually delayed by those who stand to profit from fossil fuels, or co-opted in ways that sustain the inequalities baked into our economy."
—-
Photo above shows Olivia Blake MP with some of her constituents delivering the Hallam manifesto to No.10.
#HallamClimateManifesto
@_OliviaBlake
Also see: 'COP26: What is It & What's at Stake?' and 'COP26: Where do Labour & the Left Stand?'