Principle 5, the Sheffield-based co-operative resource centre, has published the latest in its series of re-discovered pamphlets from the history of the co-operative movement, called The Future of Co-operation, originally written in 1927 by Alice Honora Enfield.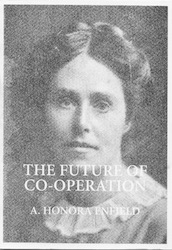 Almost completely forgotten today, Enfield was a key figure in the growth of international co-operation among women in the 1920s and '30s, serving as general secretary of the Women's Co-operative Guild from 1921-26 and as secretary of the International Co-operative Women's League from 1926 until she died in 1935.
The new P5 publication is a re-print of selected parts of Enfield's 1927 book, Co-operation: Its Problems and Possibilities, published by the Workers' Educational Association. It includes sections on Robert Owen and the origins of the co-operative movement, as well as all of Enfield's final chapter looking forward to a time when commerce, industry and services would be brought into social ownership.
As P5's Chris Olewicz and Steve Thompson write in their preface: "For anyone seeking to understand co-operation and its possibilities [today] it is helpful to take a careful look at how it was seen in the context of of past times… Such was the poverty and misery that capitalism had brought to most of the population, progress towards common ownership in some form seemed inevitable."
Enfield discusses the way forward at a time of political optimism when municipal and state ownership, as well as co-operation, were being considered. "What is clear is that co-operation is nothing if not political," they write. "Succeeding years have shown how difficult the political task of socialising the economy has been."
'Nora' Enfield, they point out, recognised that social ownership based merely at national or local government level would always be fragile, whereas co-operative societies provided "a much more robust and arguably more democratic form of common ownership".
P5 hope Enfield's long-forgotten words can still "inspire creative thinking about the future of co-operation".
"Even though Co-operation: Its Problems and Possibilities was written nearly a century ago, in a sense it still looks to a future not yet written, in which the co-operative commonwealth finally begins its ascendency, shareholdings are truly democratised, and all citizens are allowed a stake in society regardless of their personal wealth."
—-
The Future of Co-operation by A Honora Enfield is available from Principle 5 for £2. Tel: 0114 282 3132.
Sheffield and Socialism by Edward Carpenter was published by Principle 5 in 2020. It also costs £2.
Principle 5 is the Yorkshire Co-operative Resource Centre. It describes itself as an accessible learning and information resource for all. Click here for more information.