CHRIS WILSON reports on 'a quiet, grass-roots revolution' taking place in 'the people's game'.
The ILP has a proud history of supporting the co-operative movement – not surprising, as in some ways co-ops are practical expressions of democratic socialism. Yet, some people see co-ops and co-operation as old-fashioned – all that talk of the 'divvy' from days gone-by.
Such a view is understandable but mistaken. Far from belonging to the past, co-operatives really do represent a progressive economic future, one which finally takes us beyond corporate greed and ever-narrowing patterns of private ownership.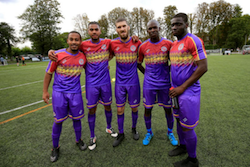 One striking area where co-ops are making a difference is football clubs. In a sport dominated by gambling adverts, dodgy overseas owners and big money, fan-owned clubs are doing well and becoming ever more popular. In some places they are putting the people back into 'the people's game'.
A quiet, grass-roots football revolution is underway, and socialists should take note.
More than 40 fan-owned football clubs are now are listed on Wikipedia. Admittedly, many of these are non-league sides, outside the fully professional ranks of the Premier and National leagues.
There's FC United of Manchester, for example, and Rushden and Diamonds, both member-owned and fan-led.
And then there's the highly politicised Clapton Community FC, a fan-owned lower league club in east London that has recently bought the traditional playing ground of Clapton FC, the long-standing, privately owned club the supporters broke away from a few years ago.
Interestingly, Clapton CFC is explicitly left wing; it raised money partly by selling football shirts emblazoned with the old republic flag from the Spanish civil war (pictured above).
Equality football
Something is happening here and anyone interested in seeking alternative forms of ownership should pay attention. Most of these are new ventures, but they are working and are popular.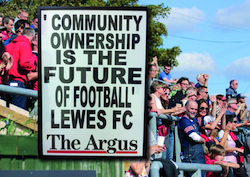 Along with my wife Sandra, I am a proud owner and supporter of Lewes FC, which campaigns for 'Equality Football'. 'The Rooks' are not only member owned, they also champion equal budgets for their men's and women's teams, and support co-ops.
Lewes play in the Isthmian League and the women's championship – not top tier, I grant you, but they are having a lot of fun, and attracting significant international attention as well as more and more fan-owners. Membership is £50 a year, directors are elected on a one member, one vote basis, and the club refuses to take sponsorship from gambling firms.
There is a story here that deserves to be told, a simple, powerful reminder that common ownership works and co-ops belong to our future as well as our past.
Big clubs take note – change is coming, ownership will rest where it should always have been: in the hands of the people.
—-
Chris Wilson serves on the NEC of the Community union and is an active member of the Co-operative Party and Christians on the Left.
See also: 'A Football Revolution' by Adam Brown.