CHRIS OLEWICZ calls for a revival of the consumer co-operatives that once formed a vital pillar of the Labour movement and could play a crucial role in our crisis-riddled times.
Listening recently to LBC's James O'Brien interview RMT general secretary Mick Lynch on his Full Disclosure podcast I heard something I thought I'd heard many times as a co-operative movement activist, but realised I'd only ever read in books.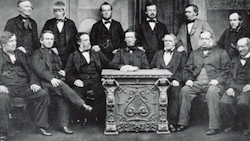 What Lynch said was: "If you're a socialist, being a trade unionist is an inherent part of that. It's organic. You can be part of the co-operative part of the movement, you can be a trade unionist, and you can be a political person. Or you ought to be in all three. That's the way the Labour movement ought to be."
When was the last time you heard the co-operative movement mentioned alongside the unions and the Labour Party as an instrument for radical change?
In 2015, the chair of Co-operatives UK, Nick Matthews, wrote in The Morning Star about the "clear trinity of values" he learned when he was young: "At work I joined the union, at elections I voted Labour, and I shopped at the Co-op."
But in modern Britain, Matthews could not recognise the same movement. Many co-operatives and social enterprises – the social economy – had been co-opted by the state to deliver social services, some of them, such as the Work Programme, highly punitive. Their co-option by the state, he suggested, stunted the growth of the co-operative sector and stopped workers seeing co-ops as vehicles for social change. 
It is time to rejuvenate the co-operative movement from the bottom up. In the 1840s the Rochdale Pioneers (pictured above) started their co-operative society to manage their own affairs and alleviate poverty. They each paid a fee to build the capital, to buy the high-quality food they desired, and they shared in the profits. Their example inspired a movement that grew exponentially for 100 years.
One could argue that state benefits and council housing mean people are better off than they were in the 1840s. Yet in communities across the country many people face many of the same problems. There isn't enough work to go around. Income does not cover expenses, and people don't have access to good food.
Waiting in hope for a Labour government is folly. It might be two years, if it happens at all. People need help now, and it is doubtful that the current Conservative-led government has the inclination to provide adequate support.
Coronation Street
One possible answer is for people to start their own co-operative societies, the sort of institutions that were often the backbone of working-class communities.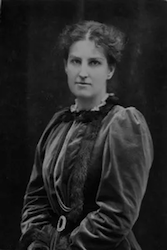 A well-known experiment undertaken by the Co-operative Women's Guild can serve as inspiration. The Guild, led by Margaret Llewelyn-Davies (left), threw its support around the Coronation Street store opened by the Sunderland Co-operative Society in October 1902. The store aimed to spread co-operation to one of the very poorest neighbourhoods in Britain, selling vegetables, bread, milk and, crucially, hot food for those who could not afford fuel to cook at home.
Guild workers showed people how to save for boots and clothes, how their dividend could grow "a little nest egg against the worst emergencies". "There is … no patronage, no church, no charity", their literature explained, "but there is, on the other hand, a centre of real neighbourliness and absolute social equality".
So what is the co-operative movement doing now to help individuals through the current cost-of-living crisis? 
One of the reasons the retail consumer co-operative movement declined from the 1960s was the rise of the for-profit supermarkets. Eventually, the Co-operative Group, which owned the Co-op shops, was forced to retreat from its principles and purpose, to become yet another supermarket chain surviving at any cost. 
The Covid-19 pandemic, the cost-of-living crisis, the war in Ukraine – these events are beyond most people's control and can feel overwhelming. But the big-name supermarkets have no answers. Arguably, they are part of the problem. Co-operatives could be part of the solution.
At heart, co-operative societies allow people to pool their limited resources for mutual benefit. Food bought with discounts on bulk purchase and distributed to members is a simple idea.
It worked in the 1840s. And with the correct support and inspiration, it can work again in the 2020s. It might just help re-build some much-needed community spirit, particularly on the streets and estates where hope is currently in short supply.
There are positive signs. Small neighbourhood co-operatives, called Cooperation Town, are growing in areas of north London, for example, as well as in other towns and cities, such as Plymouth. It is a good start.
But communities need more mutual local institutions they can have a stake in. And these need to be part of the wider movement for hope and change. If we want things run our way for all of us, we need to make it happen.
The Labour Party could have a huge part to play. After all, co-operatives are one of the movement's three founding pillars.
—-
Christopher Olewicz is an historian and director of Principle 5: Yorkshire Co-operative Resource Centre based in Sheffield.
An earlier version of this article appeared on Labour List.
See also: 'Cooperation Town: the New Network Providing Food for All', by Chris Olewicz.