PAUL SALVESON's latest book is a collection of short railway stories set in northern England, featuring unions, strikes, ILPers … and signalbox ghosts.
As a former train guard and signalman, Paul Salveson knows the working world of the railways as well as anyone, a world he has portrayed in fiction with his new collection of short stories – Last Train from Blackstock Junction.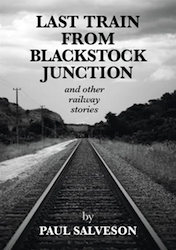 The 12 tales are based on the lives of people working at what Salveson calls "the sharp end of the railways". They include 'On Golden Wings to Wakefield', about ILP members, Lancashire and Yorkshire railwaymen who meet up to swap engines.
Some of the stories are set in the 'age of steam' and depict life on the footplate, while others chart the rise of the railway unions and the Labour movement. One story, about the Settle to Carlisle line, addresses issues of racism in the 1970s, while there's also a ghost story set in a lonely signalbox in 1911 on the eve of the great rail strike.
Others are about modern life on today's railways, including 'From Marxist to Managing Director', the story of a young Yorkshire female political activist who ends up running a train company.
The title tale is set during the Beeching cuts of the 1960s and centres on a group of young boys trying to save their local station.
"The stories are about real life, some based on my own experiences in the 1970s and 1980s," said Salveson. "I hope today's railwaymen and women will enjoy them, as well as anyone interested in today's railways and the social history of the north of England."
Salveson is well-known in the railway world for inventing the community rail movement in the UK. In 2005 he joined Northern Rail as an advisor on community engagement.
The foreword to Last Train from Blackstock Junction is written by Network Rail chair Sir Peter Hendy, who said: "As you read these stories, you'll find some history, some romance, some politics, a little prejudice – sadly – and some humour. You will in fact be in the world of railway men and women. I hope you find them as absorbing as I did when I read Paul's manuscript."
The collection is published by Sheffield-based Platform 5 Publishing whose director Andrew Dyson added: "It has been a great privilege to work with Paul on this project. His stories provide a fascinating insight into what life was really like for thousands of railway workers."
—-
Last Train from Blackstock Junction and other railway stories is published by Platform 5 Publishing and available here for £12.95.
Paul Salveson began his railway career at Horwich Loco Works, which features in two of the stories. He progressed to being a train guard in east Lancashire a signalman in Bolton and a tutor in trade union education.
He is now a visiting professor at the universities of Bolton and Huddersfield, and publishes the Lancashire Loominary website.
See also: 'Sarah Reddish – A Neglected Lancashire Hero' by Paul Salveson.