SHEILA TAYLOR reflects on the huge success of the Salter Centenary project in south-east London, which comes to an end in January. 'Throughout the year I kept remembering how historians described the ILP, that it was less of a political party than a way of life,' she says.
As 2022 approached, a number of local Labour historians and Southwark community activists decided to mark the centenary of Ada Salter becoming Mayor of Bermondsey and her husband Alfred being elected MP. The Salters' political activism was always rooted in Quaker principles and the ethical socialism of the ILP, and we wanted to make that clear as we marked their pioneering social achievements.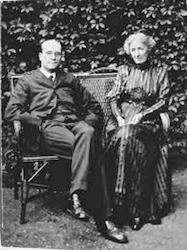 We envisaged, perhaps, holding a conference with political speakers. In the end we did far more. There was no conference, not of the traditional kind. Instead, we have had a stream of social, cultural and educational events throughout the year as all sorts of people stepped forward to arrange all sorts of activities.
Quite how visionary the Salters were – on the environment, housing and public health, in particular – has become increasingly evident to us, faced as we are by a modern world enduring climate crisis, worldwide homelessness and a global pandemic. Their insights from 100 years ago resonated with everyone we spoke to, and many people were inspired to do something to help spread the values and principles of the Salters.
As a result we have had walks and bike rides; concerts and art exhibitions; films and plays; tree and hedge planting; school lessons and children's books; a street mural, tea towels, and a podcast.
Virtually every month throughout 2022 there has been some activity to mark the Salters' centenary. What follows here is a brief overview. For full details please go to our website.
Books & bike rides
We discovered there were no local teaching materials telling the fascinating and relevant story of Ada, Alfred and their daughter Joyce to local young people. But Karen Metcalf and Sarah Mason filled the gap, producing a set of school lessons, freely available on the internet, that encouraged teachers to take their classes to see the Salter statues on the Thames riverbank, and to learn about local history.
Meanwhile, Sue and Peter Rogers wrote an utterly charming little book for pre-school children, called Ada and Alfred, also available free of charge.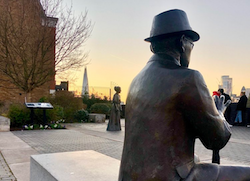 Bike rides were the most unexpected success of the centenary year. Bruce Lynn of Southwark Cyclists proposed a new 'Salter sites of Bermondsey' ride for Saturday mornings. The first took place in June and was great fun, with Bruce leading the cyclists to each stop where I told them about the Salters' story.
A spin-off was held in October when one of the participants, John Clements, organised a repeat tour for his Dulwich U3A Bike Group.
In August Andy Bates set up a far more ambitious ride – to Fairby Grange in Kent, once the Salters' cooperative farm and anti-militarist camp. The London Clarion Cycling Club assembled at Southwark Park and rode to the Salter cottages and statues for introductory talks, before setting off on their strenuous venture out of London. (An easier visit, by coach, took place in July.)
Concerts, talks & walks
It was Eleanor Thorn of TunedIn London who found a perfect pair of live performers to share Ada's ethos and entertain us at the same time – singer-songwriters Silvia Balducci and Adam Beattie, who together created a moving celebration in a packed City Hope Church in July.
Silvia sang of working conditions and human rights, drawing parallels with the Salters' Bermondsey, while Adam's performance culminated with a rendition of his amazingly appropriate 'Song of One Hundred Years', which had a deeply emotional impact on the audience.
The local history society also got involved, featuring the centenary at two meetings. In July members joined Salter-themed walks led by tour guides Oonagh Gay and Sue McCarthy, while in September we enjoyed a talk by Southwark archivist Patricia Dark on living conditions and health in inter-war Bermondsey, which included discussion of the health innovations of Dr Salter and his colleagues.
Art & friendship
To mark the centenary, Southwark Park Art Gallery named their community room the 'Salter Space', and invited us to curate its first exhibition. Contributions flowed in, including from local artist Nigel Moyce who painted the first ever portraits of the Salters.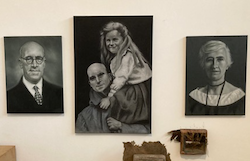 Eugene Ankomah, an artist based at the Salmon Youth Centre, told young people about the Salters and together they created a collaborative installation. Leanne Werner took photos of environmentalists. Karin Wach included her trauma sketches as a testimony to pacifism.
Together, all this work became an exhibition called The Spirit of the Salters Lives On, and over the month it was open (from 10 September to 9 October), the gallery welcomed 747 visitors. A copy of the exhibition handout is on our website.
Over recent years, friendship has grown between Ada's two homes – Raunds, the Northamptonshire country town where she was born, and Bermondsey, the inner London borough where she spent most of her life.
We had exchanged visits twice in the past, in 2016 and 2018, and in 2022 we invited the Mayor of Raunds, their town brass band and other residents to join us for celebrations. Sadly, two days before the event the Queen died, civic dignitaries were withdrawn from all official duties and the council banned our concert (no jolly music in public places, please). Fortunately, the rest of the programme went ahead as planned and everybody had a lovely day.
Alfred's great-niece, Jo Crawshaw, and husband Sebastian helped us greet the Raunds group, which included Amanda Mauro and husband Andy Farrow, current owners of Ada's Thorpe House. Following a reception by Canon Gary Jenkins at St James's Church, we walked via the Wilson Grove estate, with a glimpse inside one of Ada's garden cottages, to the Salter statues on the riverfront.
After a buffet lunch at Cherry Garden Hall, the afternoon was spent in Southwark Park. Gary Magold and Pat Kingwell told us some park history, and we welcomed the installation of a new (historically accurate) information board in the Ada Salter Garden.
At the Lakeside Art Gallery we had tea and cakes with a private view of the Salter exhibition. We then walked to Sands Film Studios for an early evening performance of Red Flag Over Bermondsey, Lynn Morris's striking play depicting Ada's early years in Bermondsey.
The Town Partnership was duly strengthened during the centenary year, and both sides hope to continue the connection in the future.
Film & drama
On 3 November 2022 a headline in Southwark News announced: 'Bermondsey school kids star in film about Salter family to mark centenary celebrations of historic couple'. The report explained how Joyce attended school on the site where Compass School stands today. It was this that sparked the idea of making a film, called Ada. (You can watch it here on YouTube.)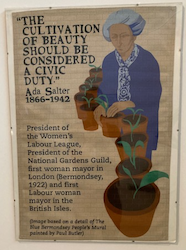 Ben May, the school's head of drama, explains: "The film captures the legacy of Ada Salter through the eyes of her daughter, Joyce, as she travels through time witnessing the changing landscape of Bermondsey … our film celebrates the extraordinary vision and legacy of Ada."
"The school is incredibly proud to play its part in the Salter Centenary celebrations," added school principal Marcus Huntley. "We are committed to ensuring the Salter legacy continues through our history curriculum… including our new Ada Salter-inspired Chess Club."
Southwark News quoted my reaction: "I never dreamt that the sadness of Joyce's death could inspire such a beautiful little film. To see her come alive and play with kids who would have been her classmates at Keeton's Road School brought tears to my eyes."
What a joy it is to have as patron Dame Judi Dench, a Quaker and environmentalist like the Salters. After hearing about our exhibition, she wrote to the artists with congratulations and thanks for participating. Nigel, Eugene and the young people at the Salmon Centre were amazed and thrilled to receive personally signed letters.
In November, Southwark Council is displaying Nigel's portraits of Ada and Alfred in the atrium of the council offices at Tooley Street to mark the pair's November 1922 elections.
Then the centenary celebrations will slip over into next year and culminate with a grand finale when the People's Company perform John Whelan's specially written 'Ada festival' play at Southwark Playhouse on 26, 27 and 28 January 2023.
Throughout the year I kept remembering how historians described the ILP, that it was less of a political party than a way of life – full of fun and fellowship, kindliness, good humour, equality, beauty, peacefulness, human unity and cooperation.
During 2022 I had an extraordinary sense that this spirit had come alive again and was moving people in a way the Salters would have recognised and loved.
—-
Sheila Taylor is coordinator of the Salter Centenary project.
Click here for more about the project and details of all the events and activities held throughout 2022.