Labour for a Green New Deal have launched a campaign for public ownership of energy aimed at putting pressure on Keir Starmer to stick to the promise he made during his Labour leadership bid three years ago.
Called 'Public Power Now', the campaign seeks to "widen the debate around public ownership of energy and build the political forces necessary to take the entire energy system beyond profit".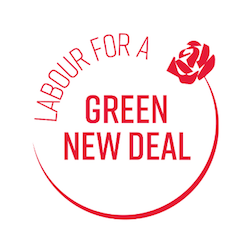 "We need a vision that extends beyond the 'big six' suppliers, to include the ludicrously profitable distribution companies and the environmentally catastrophic fossil fuel extraction companies," writes the campaign body's policy co-lead Alex Stephenson on Labour List.
"Additionally, full public ownership of energy would help insulate the UK from the volatility of globalised energy markets and allow us to minimise the cost-of-living crisis."
Stephenson calls on the Labour left to see Starmer's original pledges – to ensure public ownership of mail, rail, energy and water; to end outsourcing in the NHS; and to "put the green new deal at the heart of everything" Labour does – "as enduring and democratically decided positions of the Labour Party" that need to be defended.
"MPs, local politicians and the Labour membership should define what these policies mean and refuse to compromise on them," he says. "A tendency towards defeatism ignores that the current conditions create scope to publicly argue for these positions, well within the frame of debate initially set out by Starmer."
He adds that "debate around the specifics of these pledges and the political forces needed to realise them in power has been stifled by the party leadership", warning of the pressure Labour are under from the "super rich".
"Relying on these commitments as though they're handouts, instead of publicly building power in and around them, will almost certainly see them watered down or abandoned entirely as entrenched interests strive to campaign against them," he says.
Labour for a Green New Deal is asking Labour members to press their MPs to support the Public Power Now campaign and to pass motions at constituency party meetings.
"Only the broadest possible working class coalition can exert enough pressure to ensure that a Labour government delivers public ownership of energy as the foundation of a socialist Green New Deal," it says.
—-
Click here to find out more and access a model motion.
Click here to find out more about Labour for a Green New Deal.