Founded in Bradford on 13 January 1893, the ILP marked its 130th anniversary this month when 130 socialists, activists and community workers came together 'to create a positive collective vision of what a society that works for everyone might look like'. MARY STRATFORD reports. 
Indie Labour Fest was held on Saturday 14 January when 130 people gathered at Lister Mills (formerly Manningham Mills), the number of participants reflecting the number of socialists who came together in Bradford 130 years earlier to create the Independent Labour Party, Britain's first national party of labour. I was delighted to be one of those invited to attend.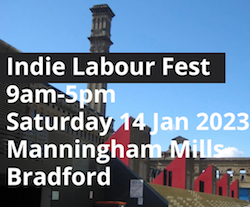 The venue was as significant as the number, for it was a strike at Manningham Mills in 1891 – involving a mostly female and young workforce – and its bitter aftermath, that led local socialists and trade unionists to realise that unions alone could not solve the issues faced by the working class, that the need for a truly independent labour party was urgent (independent meaning distinct from the Liberals).
Local ILPs had begun to emerge in the preceding years, primarily in the north and Scotland. But it was in 1893 when the decision was made to form a national party. As Edward Thompson wrote in Homage to Tom Maguire: "The ILP grew from the bottom up: its birthplaces were those shadowy parts known as the provinces… When the two-party political system began to crack, a third party with a distinctively socialist character emerged … amongst the mills, brickyards and gasworks of the West Riding."
Meeting 130 years later, at another time of crisis, the need for hope and inspiration seemed just as pressing. Many on the left, both within and outside the Labour Party, feel disillusioned or disaffected with the current state of politics. There is, at times, an all-pervading sense of despondency around us, one that's hardly surprising given the political events of the last few years.
As such, it was perhaps the perfect time to get together with others – to celebrate that remarkable meeting in 1893 while also, as the festival's founder Caroline Simes put it, seeking "to create a positive collective vision of what a society that works for everyone might look like" and to "go to work on what we need to do to bring it about".
Inspired & optimistic
The event was opened by local poet Kirsty Taylor. I am not usually the greatest fan of poetry but this was a performance and a half and it was impossible not to be moved by her words.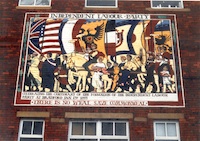 Much of the rest of the event was structured around table discussions (focus groups), interspersed with speeches and panel sessions. For me, the undoubted highlight was the morning panel when we heard from three community activists and social entrepreneurs who work at the grassroots to empower deprived communities. All the speakers gave us a fascinating insight into their work, but it was Angela Fell and Ruth Ibegbuna who captured my interest and left me feeling inspired and more optimistic.
Afters years in the public sector, feeling increasingly disillusioned with her work, Angela left a secure paid job to help found Northern Heart and Soul, a community interest company based in Wigan where Angela grew up and still lives. Its aim is to build a self-organising, participatory, local democracy that helps people take back control of their neighbourhood. The organisation helps them work cooperatively to decide what they can do for themselves and what they need from public services.
As such, they begin to direct services themselves – a far cry from what is offered by the target-driven, managerialist culture prevalent in many state sectors. Angela feels passionately that communities can work together for the common good and in turn require less state intervention in family and community life.
As someone with a background in the probation service, Angela's work and vision struck a chord with me and, I am sure, many others in the room. Such a model, placing participatory democracy at its centre, could and should be where we start to make change in our top-down, over-centralised society.
Ruth told us about the inspirational work of Manchester charity Reclaim, which gives young working-class people a voice and develops their leadership potential. Formerly a successful teacher, Ruth became frustrated with the low expectations of working-class youngsters and the stigma attached to areas where they live. She left teaching in 2007 to work at Manchester Cultural Centre and that led her to set up Reclaim.
She later established the Rekindle supplementary school to support young people falling through the cracks in mainstream education. The school emphasises critical thinking, creativity, change making and cultural education, but also provides hot meals and physical and mental health support.
Ruth then handed control to a group of eight local trustees aged between 18 and 24, all with experience of the failing state system. They now guide the project and raise funds to develop the school as it moves forward. I can't think of a time when such a project was more needed and it would be wonderful to see this initiative spread across working-class communities in the north.
Last year Ruth set up Roots, a programme that aims to break down the divisions between communities that have grown over the last decade of rising inequality, increasingly polarisation and Brexit. Effecting change and tackling inequalities in the north are at the heart of all her work, and it is hardly surprising that Ruth and her projects have won widespread recognition and numerous awards.
Other grassroots initiatives also featured throughout the day – the citizens' assembly movement, for example, and a citizens' jury in Shipley that keeps the goal of tackling climate change at the heart of all local council policies, from housing to transport and education.
Labour left
Meanwhile, in our table discussions, we were encouraged to identify short and longer-term goals and priorities. My group was full of people both passionate about the need for change and open to hearing different views of the way forward. It made for an interesting and enjoyable discussion.
A lot of attention was focussed on the universal basic income, which seemed to have widespread support, as well as the need for hope and vision, so sadly absent in much of our politics at the moment. This feeling was summed up by one participant who commented that "politics is about hope, not the technocratic management of the economy". Keir Starmer, please take note.
Given recent events in the Labour Party, it was hardly surprising that one panel discussion was given over to activists who are aiming to build a left alternative to Labour, including representatives from the Breakthrough Party, Left Unity and the People's Alliance of the Left.
While I fully recognise the current tensions and frustrations within the Labour left, and the appalling treatment of some left activists, none of these speakers convinced me of the likely success of an alternative. Indeed, they acknowledged the serious differences between them, and despite claiming it is possible to reach common ground, offered little awareness of the difficulties to be overcome in building a united left movement outside Labour.
Some pinned a lot of hope on engaging the 15 million people who currently do not vote, but again there was little indication of how that would be done. There was some recognition of the need for electoral reform too, although it did not seem to be a priority.
A lot of comparisons were made between the situation in 1893 and our present circumstances. But the more appropriate comparison in my view is with 1932 when the ILP disaffiliated from Labour, thereby robbing the party of many grassroots left activists while simultaneously condemning the ILP to political oblivion.
I am under no illusions about the problems facing the left within Labour at the moment, and I understand and share the anger and frustration of many left-wing members. But at some point the Labour left has to regroup in the party and find a way forward. Surely, that time is now.
—-
Mary Stratford is a member of the ILP's National Administrative Council.
Indie Labour Fest was held on Saturday 14 January at Lister Mills in Bradford. Involving 130 invited activists and community workers, it was the brainchild of Catherine Simes. Thanks to Catherine for inviting the ILP and creating such an enjoyable day of debate, discussion and comradeship.
You can find out more about poet Kirsty Taylor here.
Angela Fell's Twitter page and links to her projects is here.
More about Ruth Ibegbuna is here.
Her Twitter page is here.