Soundings are holding a workshop in Glasgow on Saturday 12 December to examine the themes of their Kilburn Manifesto, After Neoliberalism?, in relation to Scotland's rapidly changing political context.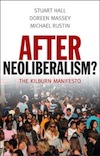 Published early in 2015, After Neoliberalism? argues that although the neoliberal economic settlement is unravelling, its political underpinning remains largely unchallenged. The manifesto calls into question the neoliberal order itself, and argues that we need radical alternatives to its foundational assumptions.
This one-day event will 'locate' the manifesto's key arguments in relation to "the burgeoning political engagement that has characterised Scotland both during, and perhaps in more unexpected ways, after the 'defeat' of the yes campaign in the independence referendum", says the Soundings publicity.
"The workshop seeks to take forward selected aspects of the manifesto to deepen them and to think how they can be developed and articulated in relation to the emerging political conjuncture.
"These key themes are: understanding and contesting neoliberal common sense; articulating alternative publics/ states and forging internationalist opposition to austerity.
"The workshop will locate austerity in relation to broader histories and geographies of contestation in an attempt to shift terms of debate and locate these processes in a broader analysis of neoliberalism. Further, it will be designed to facilitate international discourses and exchanges of left alternatives, analysis and policies and in this regard will be important in allowing different movements to learn from each other."
Speakers include:
Athina Arampatzi, University of Leeds
Giovanni Bettini, Lancaster Environment Centre;
Ross Beveridge, Leibniz Institute, Berlin
Cat Boyd, Rise
Andy Cumbers, author of Reclaiming Public Ownership
Doreen Massey (founding editor of Soundings and co-editor of The Kilburn Manifesto)
Angela Last and Lazaros Karaliotas, Geography, Glasgow University
Jenny Morrison (co-author of Scottish Independence: A Feminist Response
Satnam Virdee (author of Racism, Class and the Racialised Outsider).
The event is free but booking is essential.
 Click here to book and for more information.
What: After Neoliberalism: Scotland and alternative political futures
When: 10am-6pm, Saturday 12 December 2015
Where: Kinning Park Complex (by Kinning Park tube), 40 Cornwall Street, Glasgow G41 1AQ GB
—-
Read more about The Kilburn Manifesto here.