"It's clear the Tories are destroying the welfare state and we have to do whatever we can to stop them," said ILP chair David Connolly as he drew the organisation's well-attended Unbalanced Britain seminar on the housing crisis to a close in Leeds last weekend.

Connolly's cry for action came at the end of a day of discussion about all aspects of Britain's hideously unequal, market-driven approach to housing, which unpicked the details and implications of the Tory Housing & Planning Bill, examined the impact of current policy direction on the poorest and most vulnerable, and looked at what can be done both to resist the Tory onslaught and promote alternatives.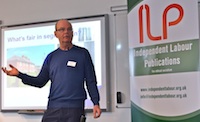 Dr Quintin Bradley, senior lecturer in planning and housing at Leeds Beckett University, gave a forensic presentation on the Bill which is currently making its way through the House of Lords, placing it in context of housing policy over  the last 40 years and a dominant ideology that has "re-jigged the idea of fairness" so that the market is the accepted measure of someone's housing needs and where they ought to be allowed to live.
The logic of this approach, he said, is that "if you can't afford to live somewhere, that means you shouldn't live there, so whole areas of the country have been closed to people on below average wages or benefits".
The Housing Bill, he said, is based on the notion that home ownership is the only secure housing choice. It changes the definition of affordable housing to effectively mean no more affordable homes can be built, promotes segregation by income and prioritises the re-distribution of public resources to those who already have the most means.
It will also reduce the stock of social housing significantly, he added, and confirms the long-standing idea that social housing should only be provided on a temporary basis.
Bradley pointed out that many of these ideas had been around since the 1970s when 30% of the population lived in council housing, a figure now reduced to 17%. "Council housing provided an affordable home to at least four generations of working class people," he said. "It gave them stability and the basis for education and social mobility."
Now, council housing is disappearing, while an entire generation is locked out of home ownership by our incredibly polarised housing market and locked into an inflated rental market.
Counter culture
"The left needs to counter the cultural common sense around the notion of the fairness of the market," he concluded, adding that we also need to think about alternative approaches to social housing, such as providing it on a co-operative footing, built to the highest energy standards, and founded on a culture of belonging and care, not market value.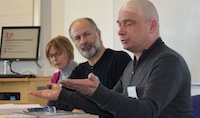 That baton was picked up immediately by the second speaker, Labour's Leeds North East MP Fabian Hamilton, who outlined the ideas in his recent report, Building Homes For Britain, researched and written with Simon Jose and warmly received by Labour's shadow housing minister, John Healey.
The report makes the case for so-called 'passive housing', built off-site to high standards to fit specific brownfield sites in towns and cities where social housing is needed.
Together with 'regional public housing authorities' and a 'national housing investment bank', a policy for passive house building would not only go against "the current trend for privatising everything", said Hamilton, but could also "bring back the importance of local government" as a provider for local people.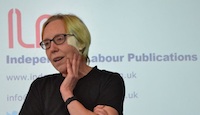 Finally, Ellen Robottom from local the campaigning organisation Hands off our Homes talked about her organisation's emergence in opposition to the Bedroom Tax and their first-hand experience of that policy's impact on 13,000 of the most vulnerable people in Leeds.
Building resistance to these policies is difficult, she said, because the people most affected are society's most dispossessed – those without resources, networks, resilience or knowledge. Opposition to the Bill must be at the top of the Labour Party's agenda, she added, but we also need a mass social movement with active tenants's groups in every neighbourhood.
—
Articles from the three speakers at the seminar are available here:
• 'The Housing Crisis Weaponised', by Dr Quintin Bradley, is here.
• 'The Housing Crisis and the Struggle for Affordable Homes', by Ellen Robottom of Hand off our Homes, is here.
• 'Rethinking Housing', by Simon Jose, is here.
Click here to read former Labour MP Harry Barnes's report on the day's events.
Click here for more on Fabian Hamilton's report, Building Homes for Britain.
Click here to download the ILP's leaflet about the event, Unbalanced Britain: Housing in Crisis.
Click here to read about previous meetings in the ILP's Unbalanced Britain series.