A blue plaque to commemorate ILPer and conscientious objector Walter Ayles will be unveiled in Bristol on Sunday 17 April, exactly 100 years to the day since he was arrested for campaigning against the Military Service Act of 1916.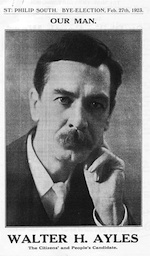 Organised by the Bristol Radical History Group, and part-funded by the ILP, the plaque will mark the spot in 12 Station Road, Bristol, where Ayles lived with his wife, Bertha, when he was arrested.
Ayles was later summoned before the Bristol Military Service Tribunal, ordered to take non-combatant service, and eventually sent to seven different prisons when he refused to comply. After the war he became a Labour MP and secretary of the No More War Movement.
The blue plaque will be unveiled at 3.30pm on 17 April, while Bristol Radical History will also re-enact his military service tribunal on 26 June, a century since it happened, in the building where it took place – now the Bristol Register Office.
The group is also publishing a short biography of Ayles.
More details from Bristol Radical History Group.
—
See also: 'Remembering Bristol's Anti-War Hero' by Colin Thomas.