Politic Man, Alison Mead's play about pioneering ILPers Ada and Alf Salter, is all set to go ahead with performances lined up at venues across London in May and June.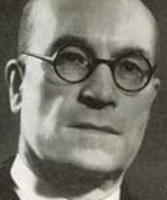 The play tells the true story of the Salters, the ILP couple who transformed an impoverished area of south east London in the first half of the last century with their 'Bermondsey Revolution' of local health care, house building and environmental change.
A 15-minute extract from Mead's play was performed at the Cockpit Theatre in Marylebone in October 2014, and the full play was read by three4all theatre as part of Roundabout Nights at the Alexandra in Chatham later that year.
But funding from the ILP and other organisations is now in place for a a series of performances later this year. Rehearsals are due to start in 25 April.
The Salters' story is an almost forgotten gem of Labour history, telling how the brilliant doctor, Alf Salter, and his campaigning wife, Ada, dedicated their lives to the people of Bermondsey, a slum area overrun by squalor and disease.
Alf introduced a free local health service for the poor long before there was a national health service, while Ada campaigned to improve housing and the environment, building gardens as part of a local 'beautifcation' programme.
Six performances of Politic Man have been organised so far:
May
Sunday 15, 2-6pm: Quaker Hall, Lawn Terrace, Blackheath, LondonSE3 9LL
Thursday 19,  5-10pm: Age Exchange, 11 Blackheath Village, Blackheath, London SE3 9LA
Tuesday  24, 6-10pm: Brockway Room, Conway Hall, 25 Red lion Square, London WC1R 4RL
Wednesday 25, 6-10pm: The Ivy House, 40 Stuart Road Nunhead, London SE15 3BE
Friday & Saturday 27 & 28, 5-10pm: St Margaret's Church, Lee Terrace, London SE13 5DL
June
Wednesday 1, 4.30- 9pm: Katherine Low Settlement, 108 Battersea High Street, London SW11 3HP
More performances may be added in the future.
More information about Politic Man is here.
—
See also: 'Ada Salter: Pioneer of Ethical Socialism', Barry Winter's review of Graham Taylor's biography of Ada Salter.