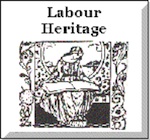 Paul Preston and Jane Martin will be the key speakers at the Labour Heritage annual general meeting on 21 May when discussions will focus on the Spanish Civil War and the education reformist and socialist, Caroline Benn.

Preston is Professor of Contemporary Spanish Studies at the London School of Economics. He will speak about 'The Spanish Holocaust', while Martin, who's Professor of the Social History of Education at Birmingham University, introduces Benn, the subject of her forthcoming biography.
The Labour Heritage AGM business will be dealt with at the start of the meeting which will be held at the Unite union offices in London.
What: Labour Heritage AGM and Meeting
When: 1.30-5pm, Saturday 21 May 2016
Where: 7th floor council chamber, Unite the Union, 128 Theobalds Road, London WC1X 8TN
Who: Paul Preston on 'The Spanish Holocaust'; Jane Martin on 'Caroline Benn – educational reformist and socialist'
—
For more information go to: www.labour-heritage.com
Or contact Linda Shampan on 020 8932 0165 or email: labourheritage45@btinternet.com