Is 'taking back control' a useful slogan for the left? BEN SALTONSTALL responds to Barry Winter's 'beguiling' question.
I was beguiled by Barry Winter's talk at the recent ILP dayschool in Sheffield. What began by sounding like a debating point actually raised many issues the left should be considering critically in the run-up to the next general election. The question he raises allows us to reflect on where we are now and what we need to do before we can trigger a transformation of our failing economic and political systems.
Barry's question seemed to be: should the left consider pitching to the general public by saying, 'If you vote Labour, you can take back control'? Or something along the same lines. There are arguments both for and against this. But, on balance, I am against for a number of reasons.
Big differences
The first is that I don't think there is sufficient consensus in the Labour Party about what taking back control means.
In his adept summary, Barry shows that there is a resurgence of left-wing thinking about the economy and increasing calls to give people more of a say over their lives. This not only comes from the Labour left, but its 'right' as well, as the quote from former Progress vice chair and Corbyn critic Steve Reed MP (below) shows.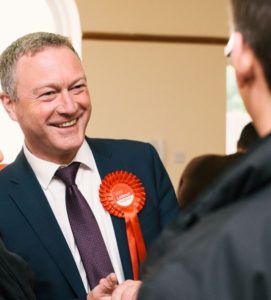 Reading Barry's selected quotes, one might begin to think there was an emerging consensus in Labour again about 'the commanding heights of the economy' (even if the form of those heights has altered since the days of steel and coal). Sadly, while there is clearly some common ground, there remain some pretty big differences too.
Notwithstanding my admiration for his parliamentary work,[1] I have reservations about Reed's position on the economy. A strong supporter of the co-operative movement, over many years he has stressed the benefits of co-operative public services, and won an OBE as leader of Lambeth council for turning it into a 'co-operative council'.
In principle, there is nothing wrong with this approach, of course. However, in the past, he seems to have proposed it as part of an agenda for diversifying public suppliers of local authority services – in other words, as a progressive, community-based form of marketisation.[2]
Personally, I am not automatically against this way of doing things, but I would be more convinced if it extended more robustly to oligopolistic private sector operations, such as tech companies, supermarkets, the media and banking sectors. To put it crudely, I'd be happier if it seemed to be part of an expansive movement to transform the economy, rather than making  public services more sustainable in the context of Tory austerity. 
According to Barry, Reed has more recently said he wants "a radical distribution of power that reshapes our politics, public services and the economy" – so perhaps under Corbyn's leadership, he feels able to be more ambitious.[3] But I can't help noting the primacy he still gives to reshaping public services rather than capitalism itself.
Big promises
The second reason I think 'taking back control' is too risky as a slogan is that it promises too much. The left has a long way to go before it can plausibly hope to do more than extend accountability and wealth through creating new economic structures. Indeed, if it ever achieves as much, we should be pleased with the result, if not accept it as an end point.
It is true to say that since the financial crash, left-wing economic thinking has begun to flourish again. Barry's article mentions the New Economics Foundation (NEF) and others. Added to these sources, there is a new generation of 'heterodox' (neo-Keynesian) economists, such as Ha-Joon Chang and Mariana Mazzucato, making persuasive critiques of neo-liberalism and stating the case for state intervention and state owned enterprises.[4]
Indeed, as Mazzucato has proved, this is not just a theoretical pursuit. State enterprise is now an established, permanent and vibrant feature of the global capitalist economy – piratical, neo-liberal, 'anglo-saxon' capitalism is a fantasy, which bears little resemblance to how corporate capitalism actually functions.[5]
Both the NEF and former Greek finance minister Yanis Varoufakis are transcending the left's microeconomic obsession with democratically run enterprises, with macroeconomic analysis and policies (see Barry's reference to the NEF's comment on the way private banks' profits depend on their power to generate money[6], or read Varoufakis's Global Minotaur[7]).
The left is not alone in developing radical financial ideas. The billionaire financier and philosopher, George Soros, has for many years been proposing global financial solutions to humanity's biggest challenges, arguing for international government agreement on massive (in fact, mind-boggling) public investment to alleviate global poverty, instability and inequality.[8] While this is not all part of one intellectual movement, or ideology, it does show there is now more scope for state-led transformations of the world's economies.
But there are limits to this resurgence. The first is that, despite some rethinking on the left about social ownership – admirably summed up in Andrew Cumber's excellent book, Reclaiming Public Ownership, in which he imagines what a market-based socialism could look like – there is a long way to go before we can be confident about the results.[9]
Indeed, Labour's summary of alternative forms of ownership, which Barry mentions,  provides a sober outline of the limits of these models. My initial thoughts on reading it is that it gives us both cause for hope and pause for thought. Its stories of social ownership show that often they have not been spectacularly successful and that while there are pathways to progress, they are tentative and, in some cases, speculative.[10]
The second limitation is that Labour still does not link alternative forms of ownership to a bigger narrative about reforming the financial system. True, it does mention providing better finance and trade associations for co-operatives, but as yet it has not sketched out an alternative investment architecture to bear comparison with capitalism's elaborate structures.[11]
This shows there is some way to go yet before we even work out what we might need to do to take back control.
Big Brexit
Which brings me to my third reason: the lessons of Brexit. As Barry says, leaving the European Union was sold on the basis of 'taking back control', but as the UK struggles to find a deal with the EU that can work, it has become clearer and clearer that this was a slogan with little substance.
While some people may now have changed their minds about Brexit, a lot more leavers are likely to end up looking for someone to blame (such as slippery foreigners who won't give us the deal we want, covert remainers like Theresa May negotiating a bad deal on purpose, the 'liberal elite', foreigners taking over our country, the Jews and international finance, etc). This in turn will lead to a further reactionary backlash.
The last thing we should do is over-promise, win an election and fail to deliver. That really would be a source of mass disillusionment.
The fourth and final reason for not adopting 'taking back control' as a slogan for the left is that its meaning is so volatile. This may be good for politics but, as we have found out through the process of Brexit, good politics does not necessarily translate into good policy. Phrases like 'new Labour, new Britain' sound great, but they mean different things to different people and can lead to great disappointment.
'Taking back control' could mean simply having a voice in policy making; it could mean having a say over economic policy; it could translate into something that one person wants, but not another, whose interests are ignored as a result (for example, a Romanian migrant worker). Indeed, should we always want 'control'? Should men want to control women? Or bosses, workers?
All in all, I think 'taking back control' could be a poisoned chalice. But then again, I'm not a successful politician and perhaps you need to offer big imprecise slogans to the public to succeed in elections.
——
Notes
1. Since his election in 2012, Reed has enjoyed striking success in Parliament. Recently, he tabled a private members bill (PMB) to radically reform the use of restraint in mental health units, which became law on 1 November 2018. The Mental Health Unit (Use of Force) Act 2018 is known as Seni's Law, after Oluseni Lewis, a young Black man who was killed by the police in a mental health unit. Seni's incredible mother, supported by the charity Inquest, fought long and hard to set up a formal Inquest into her son's death.
As Mrs Lewis's MP, Steve Reed took up her case and developed one of the most advanced pieces of human rights legislation this country has ever seen, gathering the support, along the way, of the prime minister, Theresa May. Perhaps she was moved by Mrs Lewis's powerful faith in the grace of God, which has had such a healing effect on those around her, and ultimately on the country, since Seni's death.
2. For example, see this balanced but critical piece about Reed's legacy in Lambeth from Inside Croydon (November 2012) [available here]. Lambeth's co-operative principles at the time sound like a fairly standard corporate service model, with an emphasis on co-production, commissioning, agility and being 'risk-aware not risk-averse'.
3. Reed seems enthusiastic about McDonnell's policy of giving employees shares in the companies they work for: Reed, Steve (October 2018) 'People power is the antidote to populism', Labourlist [available here].
4. For example, Mazzucato, Mariana, 'The Value of Everything – making and taking in the global economy' (film of a lecture, introduced by Paul Mason), Youtube (July 2018) [available here.]. Note her assertion that there are many forms of capitalism, that the one we have isn't a very good one and we should be co-producing a different kind of capitalism.
5. For example, HBS working knowledge (2013) 'What capitalists should know about state-owned enterprises', Forbes (available here).
6. NEF (2017) 'Making money from making money' [available here].
7. There's a reasonable summary of the book in Wikipedia, available here. But I would recommend reading the book to get a sense of how the global economy has been constructed by civil servants and corporate interests.
8. Bessner, Daniel (2018) 'The George Soros philosophy and its fatal flaw' (Guardian) [available here].
9. Details of the book, including reviews, can be accessed here.
10. The Labour Party (2017) 'Alternative Models of Ownership' [available here].
11. For example, Ha Joon-Chang (2010), 'Institutions and economic development – theory, policy and history' [available here].