Baroness Shami Chakrabarti will deliver the third annual Dave Hopper Memorial Lecture at Durham's Miners' Hall on Friday 12 July as part of Education4Action's 'Politics, Pits and Protest' 10-day fringe programme leading up to the 2019 Durham Miners' Gala.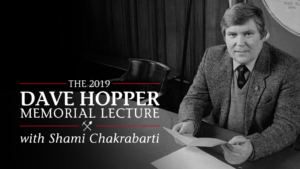 Labour's shadow attorney general will be the leading guest speaker at the concluding event of the week, supported by Ed Yonkovich, Vice President Emeritus of the United Mine Workers of America, and introduced by Alan Mardghum, General Secretary of the Durham Miners' Association.
The lecture at Durham's so-called 'Pitman's Parliament' will follow a session on developing political education run by the International Working Class Education organisation, preceded by nearly two weeks of workshops, school visits, talks, discussions, films and music.
Among the highlights of the programme, which starts on Tuesday 2 July, is a session on miners' banners, led by Dave Wray, a talk on William Morris by John Stirling, and a lecture on the Durham NUM during nationalisation by Huw Beynon, Emeritus Professor of Social Sciences at Cardiff University and author of Masters and Servants, about the making of the DMA, and Digging Deeper, on the 1984/5 miners' strike.
The programme is supported by The Marras, the friends of Durham Miners' Gala, and all events are free except the Dave Hopper lecture which must be booked in advance through the Miners' Hall website.
Full details available from Education4Action.
The 135th Durham Miners' Gala takes place on Saturday 13 July with 'the Big Meeting' itself starting on the Racecourse at 1pm.
——