A plaque to honour members of the Independent Labour Party and the National Clarion Cycling Club who fought in the Spanish Civil War will be unveiled at Nelson ILP Clarion House on Sunday 20 October.
The ceremony will include speakers from the ILP, the Clarion Club and the International Brigades Memorial Trust.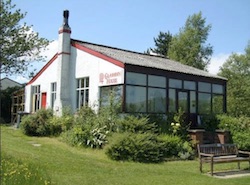 Nelson ILP's Clarion House in Newchurch-in-Pendle, Lancashire, has been welcoming radical walkers and political activists since it was first opened by pioneering ILPers back in 1912.
The socialist cafe and tea house celebrated its centenary seven years ago and set up Friends of Clarion House to raise funds for preservation and maintenance work in 2014 to encourage supporters of the co-operative venture to volunteer at the House and grounds, and "be part of its socialist spirit".
The unveiling ceremony will start at 2pm. It is free and open to all.
Nelson ILP Clarion House is at Jinny Lane, Newchurch-in-Pendle, Burnley BB12 9LL (map here).
—-
Find out more about Nelson ILP Clarion House here.
Read more stories about Clarion House here.