Leading left anti-Brexit campaign group Another Europe is Possible has pledged to continue fighting for democracy, human rights and social justice and to protect key progressive aspects of EU membership.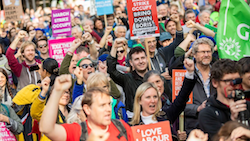 Although the UK is now out of the European Union, this is not the end of Brexit, claimed a statement by the group last month, but "the beginning of a series of battles we will have to fight to defend our rights and freedoms".
"The fact that the Tories have a large majority makes what we are doing even more important," said the statement. "We need to unite a huge movement of the progressive left that can block the worst aspects of Boris Johnson's plans, shift the debate, and ensure that we can one day overturn what is much of what is about to happen."
Among the group's plans is a Charter for a post-Brexit settlement that preserves key progressive aspects of EU membership, a plan for tackling the underlying causes of Brexit, and a set of demands for transforming the EU.
They have also pledged to defend the rights of EU migrants and called for them to be guaranteed in primary legislation, and are planning to hold a major conference in the spring around democracy, the planet and human rights.
The will be co-hosted with a range of other campaigns and organisations, and include a series of workshops covering key themes such as immigration, the climate crisis and fixing our democracy. "We'll be exchanging skills and knowledge, and getting ready for the biggest fights of the coming months and years," it says.