MARIA GOULDING reviews Bernardine Evaristo's 2019 Booker Prize winning novel, Girl, Woman, Other – an interwoven tale of diversity and race that has much to teach us about the need for tolerance in modern Britain.
If you can imagine knitting a Fair Isle jumper with 12 colours you will have some idea of the feat that Bernardine Evaristo has accomplished with Girl, Woman, Other. Her 12 women characters each have a chapter to themselves but they are interwoven into each other's stories, many of which come together in the final chapter.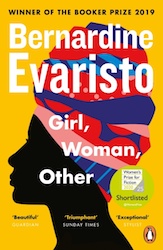 The backbone character is Ammi – a feisty gay woman who has finally 'made it' when her latest play, The Last Amazon of Dahomey, is staged at the National Theatre. She and the other 11 represent different aspects of the African diaspora. They have different histories, different sexualities, different outlooks, different coloured skin.
Evaristo is brilliant at showing there is no one way to be black in contemporary Britain any more than there is one way to be a woman. The book reminded me of a snatched comment I heard on the radio – the speaker objected to the phrase 'black community' and preferred to talk of 'black society' in all its diversity and contradictions.
I particularly like the way Evaristo punctures right-onness, 'skewering pretensions', as a New York Times critic put it. The discourse around multiple oppressions is constantly changing and Evaristo is excellent on deconstructing common assumptions and clichés, not only those from racist conservatives but also from smug liberals.
Nowhere is this better done than in conversations between Amma's precocious daughter, Yazz, and her close university friends, 'the Squad'. It is the blonde rosy cheeked Courtney who puts Yazz right:
"Roxane Gay warned against the idea of playing 'privilege Olympics' and wrote in Bad Feminist that privilege is relative and contextual, and I agree, Yazz, I mean, where does it all end? Is Obama less privileged than a white hillbilly growing up in a trailer park with a junkie single mother and a jailbird father? Is a severely disabled person more privileged than a Syrian asylum-seeker who's been tortured? Roxane argues that we have to find a new discourse for discussing inequality."
Diverse lives
In most of the book we do not stray far from greater London. Carole is a banker in the City. Bummi, her mother, despite her degree in mathematics from the University of Ibadam, has had to work her way up from being a cleaner to running her own cleaning company. Pauline, a retired teacher, has finally settled in Dulwich with a very conventional man. Dominique, who collaborated with Ammi in their agitprop theatre group, has long ago left the metropolis and is now successful in America.
They have all had to contend with casual and not so casual racism, casual and not so casual sexism, and damaging social class discrimination throughout their diverse lives.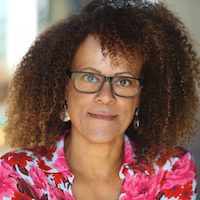 Shirley, Amma's friend from schooldays, whose parents have moved back to Bermuda, continues to teach in an inner city comprehensive, but her early idealism has been ground out of her by the narrowing curriculum and unruly pupils. She is a disillusioned character who remains stuck with some early prejudices – she can never get over her distaste for Amma's homosexuality, for instance.
I found it rather touching when she turns up dutifully for the premier of The Last Amazon of Dahomey but is glad to slip out early so she can catch the Bake Off final. This pair could not be more different but their childhood bonds hold them together. Evaristo treats all her main characters with great warmth and sensitivity, while being aware of their weaknesses and faults.
When I was teaching anti-racist and multicultural approaches to education I used to be told that we didn't have a problem up here in the north east because it was all white. Evaristo tackles this ignorant assumption head-on, with a neat move up the London North Eastern Railway line to Tyneside. A 19th century slave trader, an Abyssinian seafarer docking in South Shields and a black American serviceman in World War Two have all left their mark on the characters in this part of the book.
It reminded me of David Olusoga, who revealed the suppressed history of black British people in his BBC TV series Black and British. When he went to Burgh by Sands in Cumbria he uncovered traces of black ancestry dating from the time of the Roman Wall, to the amazement of many of the inhabitants of this small 'typically English' country village.
I particularly enjoyed the stories of the 93-year-old black Northumberland farmer, Hattie, her mother Grace, and her mother Daisy. There was great sadness here but great resilience and spirit too, plus a wonderful sprinkling of humour in these chapters. The Christmas dinner scene in Hattie's farmhouse was laugh-out-loud funny. I want to be as sharp as her when I am that age.
Complex themes
These are just some of the characters who embody a complex set of themes – sexuality, love and desire, social class, the relationship between parents and children, politics in its widest sense. The chapter on Dominique and her radical female lover, Nginzi, is a brilliant exposé of woman on woman domestic abuse. It could be used to support victims of abuse, as they would surely recognise many of the features of these controlling relationships.
Morgan/Megan, who moves from being transsexual to gender free, gave me an additional perspective on the fluidity of gender identity. If there is any one running thread in this book it is that of tolerance, complexity and the celebration of new ways of being. It is not a book which wallows in victimhood or easy binaries.
The other big theme, which has implications for all of us in the Labour movement, is that of 'selling out'. When you become privileged in some way do you lose your critical edge?
Amma frets that because she is now successful and accepted as part of the theatre establishment, she has somehow betrayed the ideals of rebellion and resistance that drove her earlier dramatic work. Bernardine Evaristo may have entertained such doubts herself when she won the Booker Prize, but she seems unashamed of her new-found success and happy to use it as a platform for other writers who have been sidelined in the past.
I thoroughly enjoyed this book and Evaristo's unconventional style. She doesn't write in sentences, rather in snatches which capture the fragmentation and directness of speech and thought in real life. It is even better on re-reading, when you start to unravel the threads and consolidate the connections. I even made a character map!
If I have one criticism it would be that there is too much going on; I would have liked more depth with a smaller set of characters. It certainly rattles along but I would have sometimes preferred more development, a change of pace and tone, and less straining for coverage of the themes.
However, that would detract from the sheer scope of Evaristo's ambitious project to capture the diversity of the diaspora. That necessitated a big cast and a certain formulaic predictability in covering so many types.
I hope I've given you a taste for a highly entertaining, absorbing and enlightening read. The epilogue is definitely worth waiting for.
—-
Girl, Woman, Other by Bernardine Evaristo is published by Penguin and is available here for £8.99.
Read more of Maria Goulding's reflections on politically resonant literature here.