The Orwell Society has released the latest recording in its online 'George Talks' series featuring an interview with Sylvia Topp, author of the highly-regarded biography of Orwell's first wife, Eileen O'Shaughnessy.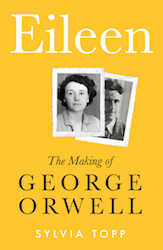 Topp's book, Eileen: The Making of George Orwell, is the first ever biography of the woman who married Orwell in 1936 and followed him to Spain a year later when he joined an ILP contingent to fight in the civil war.
The biography was described as "a revelation" by John Carey in The Sunday Times, "because it sees things from Eileen's viewpoint and shows that Orwell persistently failed to do so", while Frances Wilson called it "a moving and important book" in The New Statesman.
Recorded on 21 March, the 80-minute discussion between Topp and Orwell Society chair Quentin Kopp is available on YouTube or via the Orwell Society website.
The conversation is all the more poignant because Quentin Kopp is the son of George Kopp, the commander of Orwell's POUM regiment in Spain, who Topp believes had an affair with Eileen in Barcelona while Orwell was at the front.
In particular, Topp is keen to dispel the notion that Eileen, who died in 1945, was subordinate to Orwell or downtrodden. By contrast, she believes Eileen had a major impact on his work.
"She was one of the first to see Orwell's talents," says Topp. "She saw his genius, and I want us to admire her choice. I don't think she should be pitied in any way.
"I see her influence in all his books but I think she's been overlooked partly because she died before he was famous."
Other recordings in the monthly series include Richard Blair, Orwell and Eileen's adopted son and patron of the Society, talking about his memories of living on Jura while Orwell was writing Nineteen Eighty-Four; while the next discussion on 18 April features George Kopp's biographer, Marc Wildemeersch, talking to Quentin about his father.
—-
Sylvia Topp's discussion with Quentin Kopp is available here.
See also: 'Orwell and the ILP' by Benedict Cooper, an Orwell Society committee member.
Eileen: The Making of George Orwell, by Sylvia Topp, is published by Unbound.