Easter Sunday marks 12 months since Keir Starmer was elected Labour leader on 4 April 2020. DAVID CONNOLLY assesses his first-year performance and suggests a way forward for the left.
In Sir Keir Starmer's own words, Labour faces a "monumental task" to win the next general election. It needs to gain 123 seats, most of which are in towns rather than cities, 78 behind the so-called 'red wall'.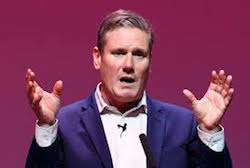 This requires an overall swing to Labour of 10.5 per cent, larger than in 1945 or 1997, plus a substantial comeback in Scotland. Without major gains north of the border, the swing required in England and Wales is 13.8 per cent – and the Tories have won a majority of English votes at every general election since 2005.
Even without considering constituency boundary changes and voter suppression, to get anywhere near this target Labour needs to attract, not just the those traditional supporters who switched to Conservative in December 2019, but Labour people who voted Liberal Democrat, a group often neglected by commentators.
In addition, we should not forget that the Tories are focused, not only on retaining their new 'red wall' seats, but on grabbing another swathe of Labour marginals in northern England, such as Ian Lavery's in Wansbeck (Ashington/Morpeth) held by just 814 last time.
In this respect, the by-election now underway 45 miles down the coast in Hartlepool may tell us something about Labour's prospects. The town is part of the Tees Valley area whose Tory mayor, Ben Houchen, was given a large pot of public money for post-industrial regeneration, including £40 million spent in December 2018 on bringing the slowly dying Teesside International airport into public ownership.
How this sits with his aim of making Teesside a world-leading centre in carbon capture is a moot point. But there is no doubt this intervention, and several other initiatives, are making a big impact on the public in an area that has long felt neglected and 'left behind'. We should note, too, that several hundred Treasury jobs are being moved from London to Tory-held Darlington next year.
Unfortunately, the Labour campaign in Hartlepool has not got off to the best of starts with the candidate, Paul Williams, selected from a misnamed 'longlist' of one followed by revelations about his history on Facebook.
Labour's majority of 3,595 was only possible in 2019 because the Conservative and Brexit parties cancelled each other out, and it will be an uphill struggle to win again. Labour's task has been made even more difficult by the candidacy of Thelma Walker representing a new Northern Independence Party. She was a left-wing MP for Colne Valley from 2017-19 who resigned from the Labour Party last November.
In its own way, the changing politics of Tees Valley raises the difficult question of what Labour should do if the Tories are now doing what Labour has traditionally done?
Boris Johnson may be a hapless prime minister whose rejection of scientific advice on lockdowns and gung-ho attitude to the pandemic cost thousands of lives, but he is also a formidable political opponent and an erratic opportunist who has landed on Labour's square.
Smash and grab
The recent budget is a case in point. As Joe Guinan put it in Tribune: "Higher corporate tax rates on the most profitable companies. A green industrial revolution. A new national infrastructure bank to channel capital to the regions. Investment-led growth to fuel the economy of the future. A change in the Bank of England's mandate to incorporate environmental sustainability. Moving parts of HM Treasury to the north. Even government financial support for community ownership to preserve pubs and other local assets.
"And on and on. If you closed your eyes for a moment, it was almost possible to imagine it was John McDonnell and not Rishi Sunak delivering the Chancellor's 2021 spring Budget statement."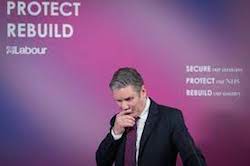 Indeed, it was a smash and grab raid on the Corbyn agenda carried out in broad daylight, and it caught the Labour leadership on the hop. It included an implied repudiation of George Osborne's dramatic cut in corporation tax in 2010 as Sunak promised to raise it by 25 per cent, a measure shadow chancellor Anneliese Dodds initially opposed.
Her position was eventually reversed but it was a distinctly uncomfortable stance to take. An editorial in the usually sympathetic New Statesman was damming: "As the Conservatives reposition themselves for a new era of state intervention, the Labour Party seems to have lost confidence in what it is, what it wants and for whom it speaks."
While it's true that classical Keynesian economics advises against tax increases in a recession, this misstep had little to do with economics. In their determined drive to put as much political distance between themselves and their predecessors the leadership instinctively identified any rise in corporation tax, even one supported by 61 per cent of Conservative voters, as too much like John McDonnell and so rejected it.
The same kind of reasoning is at work in their response to the ongoing Tory war on 'woke'. The retreat began innocuously enough when Starmer felt obliged to support the singing of 'Rule Britannia' at the Last Night of the Proms. Labour then abstained on bills to extend the legal right of the state and its agents to use violence in one form or another.
They were also planning to abstain on the Police, Crime, Sentencing and Courts Bill, a severe threat to the right to demonstrate, until events on Clapham Common following the murder of Sarah Everard made that politically impossible. And now, having used the union jack as a backdrop in interviews and speeches, they can hardly turn round and oppose government measures to ensure this flag of a cruel and sometimes genocidal imperialism flies on every government building.
Values offer
In an effort to neutralise what he no doubt sees as Labour's reckless jaunt into extremism between 2015 and 2019, Starmer has turned to director of policy Claire Ainsley to make what she calls a "values offer" to the electorate using the "core moral languages" of "care, fairness, loyalty, decency and family". These characteristics are important but without a context, and in the absence of a bigger picture, they border on banality.
Whereas Tony Blair and Gordon Brown could at least draw on the 'third way' theories of academics such as Anthony Giddens and Julian Le Grand, the current leadership has risen largely without ideological trace and so an identifiable Labour agenda scarcely exists beyond what came to be called 'Corbynism'.
Indeed, what characterises most of the right of the party is a distinct absence of intellectual curiosity and an unwillingness to reflect on the lessons of the Blair period. Having blunted Ed Miliband's opposition to Tory austerity up to 2015, the Labour right offered no coherent alternative vision to Corbynism thereafter. Instead, they engaged in a wholly negative and destructive war of opposition. Under Starmer, when presumably their influence could be much greater, there are few signs of vitality.
The best on offer seems to be Rachel Reeves who has made some limited criticisms of new Labour's economics. But she characterises the current task as rebuilding a national economy "with the support of all those prepared to put national reconstruction first – managers, small business owners, workers, unions and beyond", and champions "common decency and togetherness", which could lead us anywhere. There is no boldness or vision, or any systemic answers to systemic questions.
Supporters of the leadership now have a majority on Labour's National Executive Committee and are in control of the party machine. Meanwhile, the Forde report hovers overhead in a ghostly legal limbo; Jeremy Corbyn remains suspended from the Parliamentary Labour Party with no reconciliation in prospect; and members continue to be suspended without proper explanation. As red fades to mauve, some comrades have (mistakenly) chosen to leave in frustration and disappointment.
And yet, the new Tory interventionism actually validates the idea that public spending is vital in pursuit of 'levelling up'. Sunak doesn't really believe in equality (as revealed when the budget's hidden austerity measures were exposed), but the Labour Party does and, correctly handled over time, it should be helpful that the government is legitimising the party's central purpose.
As reluctant as I am to agree with Philip Collins, a former speech writer for Tony Blair with scant regard for the left, he nevertheless makes an important point when he argues that the Labour leadership needs to hold the Conservatives to their promise of levelling up by imposing its own definition.
"Left to their own devices, the Tories will define levelling up in the most minimal way possible: through the money that travels north from Westminster. Even the distant goal of regional equality will be discarded soon enough.

"Real levelling up, though, is not about places. It is about people in places. A government that is serious about achieving equality would be setting itself targets for educational attainment, for university entrance, for life expectancy, for morbidity, for pay and progression. It would be talking about the everyday details of people's life chances, not just applying a lick of paint to a dilapidated town or, in the case of Sunak's patch, another coat of paint where none is required.

"This is the way to turn the Tories' levelling up agenda against them. Keir Starmer's next big intervention should welcome the ambition and then define it in a way that horrifies the Tories, philosophically because they don't agree, and practically because they know they can't achieve it. Take the Conservative Party at its word and help the public work out that its words are cheap."
Labour could also point out that, despite government rhetoric, the Institute for Fiscal Studies is predicting spending reductions of £9 billion in unprotected departments such as the Crown Prosecution Service and the courts, and further cuts to local government. According to the IFS, "the first half of the 2020s could feel like the austerity of the 2010s", which is "difficult to reconcile with a coherent 'levelling up' agenda".
Core left concerns
Labour's policy process is now underway, conducted through the National Policy Forum with eight commissions taking hearings on a number of areas. Many of these – such as rebuilding post-pandemic, a green recovery, social care and climate justice – are core left concerns.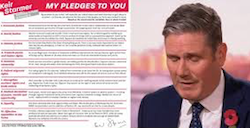 The left should use this review, and any other opportunity, to push for an elaborated and updated version of the 'Ten Pledges' Starmer outlined in his leadership election campaign. This would provide the basics of a social democratic programme and is the least we should expect, as groups such as the Northern England Labour Left have recognised.
This is not just a matter of going through the motions. As recent experience in the United States shows, pushing more radical policies can make a real difference.
Some now suggest President Biden, a traditional centrist, is setting out his stall to become the Franklin D Roosevelt of the 21st century. If so, it will be the radical programmes of Bernie Sanders, Alexandria Ocasio-Cortez and networks such as Democratic Socialists of America that provide the policy framework.
This is not because Biden has suddenly become a leftist; it's the reality that Clintonesque triangulation is simply not possible in the USA anymore. Similarly, however much some might wish it otherwise, an updated version of the Blairite third way has little mileage here.
This is not to suggest that the economic, social, political and constitutional crises in Britain are quite as severe as those in post-Trump America. But it does mean Starmer may have no alternative but to be more radical than his instincts usually allow. If so, a portfolio of policies fit for 'a second Clement Attlee' will be important.
As with Joe Biden, this might seem an unlikely scenario right now. But in these unpredictable times change comes quickly and the left needs to be ready.
—-
David Connolly is chair of the ILP.
See also, 'Labour "Under New Management"' and 'Starmer's (Un)Balancing Act', both by David Connolly.