The first ever biography of socialist pioneer and Burnley Labour MP Dan Irving is due to be published by Nelson ILP Land Society.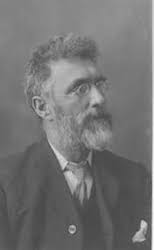 Written by local historian Roger Smalley, Dan Irving, Socialist will re-examine the life and legacy of this major figure from the early years of the socialist and labour movements in the late 19th and early 20th centuries.
Irving played a major role in the formation and development of the Social Democrative Federation and worked with Eleanor Marx, Keir Hardie, Robert Blatchford, Catherine Conway, Enid Stacy, Ramsay MacDonald, and others in campaigning for independent representation of the working class in parliament, influencing and being influenced by them.
He was, according to Smalley, an advocate of socialist unity and was able to co-operate with the ILP, the Labour Party and other organisations on the political left when less flexible Marxists could not.
"He is usually portrayed in the pantheon of SDF founding fathers as a Hyndman loyalist," says Smalley. "This study re-assesses that reputation by analysing the Federation's conferences and examining the debates surrounding the birth and disintegration of the British Socialist Party in the 1910s.
"It also deals with his career as a trade unionist, a town councillor and a member of parliament. His Burnley constituents returned him three times, and he would undoubtedly have become a part of the first Labour Government had he lived."
Smalley's book notes Irving's maverick style, which often attracted controversy, while pointing out that he was "an effective parliamentarian whom Lloyd George respected as a formidable opponent".
"But it was at the local level that his record is particularly impressive," adds Smalley. "His work to improve housing and create better educational opportunities gained him the affection of the people of Burnley, and they turned out in their thousands to mark his funeral."
—-
Dan Irving, Socialist, by Roger Smalley, is published by Scotforth Books and available for £10 from the Nelson ILP Land Society.
Contact Carol Hopkins for more details via: carolhnoe1@gmail.com; tel. 01282 602186.
Mid Pennine Arts will be organising a launch event for the book in Burnley Library in October 2021.
See also: 'Johnnie Duxbury – The Quiet Dedication of an Ethical Socialist' by Roger Smalley.