ROGER SMALLEY recounts the life of a Blackburn ILPer who wanted her work 'to sting people into rebellion against poverty and fire their hearts with a cause'. Ethel Carnie left an impressive legacy of dissent that continues to have relevance today.
Ethel Carnie grew up in north east Lancashire before the First World War, the daughter of mill workers who moved frequently in search of better pay and cheaper rents. The weaving towns in which she lived produced 82 per cent of all exported cotton goods in the 1880s and a record seven billion yards of cloth in 1913.1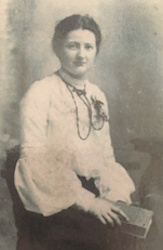 For their part in an industry crucial to national economic prosperity, four loom weavers could earn about £1.5s.0d a week and women were often paid the same as men. This was considered a good wage but it was subject to cyclical depressions in trade which closed some mills and forced short-time on others, and it was heavily dependent on poorly paid child labour.
Ethel Carnie began her working life in 1897 aged 11 as a child labourer in Delf Road Mill in Great Harwood. She had enjoyed a brief education, earned high marks for composition, and resented having to leave school. Later she claimed that "factory life has crushed the childhood, youth, maturity of millions of men and women. It has ruined the health of those who would have been strong but for the unremitted toil and evil atmosphere."2
This was a fate Ethel escaped because she used the sounds and movements of the machinery she worked with to create poetry. Rhymes from the Factory, by a Factory Girl (1907) and Songs of a Factory Girl (1911) were published locally, but when Robert Blatchford saw them he offered her a job on The Woman Worker, a companion paper to his highly successful Clarion.
A regular column gave her the chance to express her views on social injustice generally and women's issues in particularly. They were based on personal experience of exploitation and informed by extensive reading in the autodidact tradition.
Few working-class women had Ethel's determination and opportunity to transcend their circumstances. A well-known exception is Selina Cooper. Working mainly within the Nelson ILP, Selina promoted socialist and feminist causes that were chronicled in a famous 1984 biography.3 The two women were close neighbours and they sometimes shared the same platform, but they had different priorities and propaganda styles.
Ethel was primarily a writer. In 30 years from 1907 she completed 10 novels, three volumes of poetry, a great deal of shorter fiction published in socialist and co-operative magazines, and a substantial body of journalism. Her audience was working-class women, and her hope was that they would recognise and act upon the serious political messages lightly concealed within her romantic story lines.
She believed that: "It is too easy to give people what they want. The difficult task is to teach them to want something better … to sting them into rebellion against poverty, to fire their hearts with a cause."4
Collectively Ethel's writing amounted to a devastating attack on capitalism in all its forms. Helen of Four Gates (1917), which exposes male indifference to the subjugation of women, is perhaps her best known book because it sold over 33,000 copies and was made into a film. General Belinda (1924) also sold well. It called for an end of domestic service and criticised Britain's involvement in the conflict of 1914-18.
However, it is in This Slavery (1925) that Ethel made her most bitter attack on capitalism, a system so inimical to the working class, she said, that it should be overthrown. It was a revolutionary statement admired not only in Britain but in the Soviet Union where it was published under the title This Capitalist Slavery.
Activism & independence
Ethel's activism took more conventional forms as well. She joined the Blackburn ILP in 1908, although disagreements over the franchise (she favoured giving the vote to all adults with no preconditions rather than linking women's voting rights to their husbands' circumstances), and about socialist unity (she believed no group had tried hard enough to achieve it) often led her to adopt an independent line.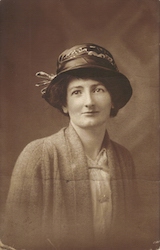 She organised campaigns against paternalism, conscription, the persecution of Bolshevik dissidents, and the exploitation of women and workers. But most importantly, she and her husband Alfred Holdsworth published a newspaper, The Clear Light, and through it launched the National Union for Combating Fascism to counter the growing influence of Mussolini on the British right.
Ethel imposed a punishing schedule on herself in pursuit of these causes and persevered when poverty and ill-health could have forced a re-ordering of her priorities. Courage and integrity beyond the ordinary were necessary for a mill girl to argue principles with experienced politicians, to stand up to pro-war bullies who tried to prevent her speaking at anti-conscription meetings, and to laugh off fascist threats to blow up her printing press.
She built an impressive legacy of dissent which is still not fully appreciated, although some consider her the only working-class woman poet of her time,5 and Miss Nobody (1913) is now accepted as the first novel to have been written by a working-class woman.6
All this effort took its toll. By the mid-1930s the years of dissent, the deaths of her parents and the failure of her marriage had overwhelmed her. She was no longer able to cope with the pressure of political activism – what Trotsky called "the mighty devourer of human energy"7 – and she developed a form of depression that silenced her.
The last 25 years of her life were spent in north Manchester and if she wrote anything during that period it has yet to be found. Yet her life and work continue to have relevance today, when the far right is resurgent and irresponsible capitalism remains a popular economic model.
Now feminist scholars are seeking to give her fiction a place in the history of socialist literature; moviegoers are watching the recently rediscovered film of Helen of Four Gates; readers are relishing Kennedy and Boyd reprints of her novels; and Mid Pennine Arts is working with schools and community groups to promote her memory.
In Oswaldtwistle, her birthplace, Ethel now enjoys the status of a secular saint, although she deserves to be much more widely revered.
—-
Roger Smalley is a local historian and author of Breaking the Bonds of Capitalism: the political vision of a Lancashire mill girl, a biography of Ethel Carnie Holdsworth.
See also: 'ILP Profiles: Johnnie Duxbury – The Quiet Dedication of an Ethical Socialist' by Roger Smalley.
Dr Nicola Wilson, associate professor of English Literature at Reading University, celebrated the life and work of Ethel Carnie Holdsworth on International Women's Day this year.
Four of Ethel Carnie's titles published by Kennedy & Boyd are available to buy here.
Examples of her poetry and recordings from a reading can be found on the Poetry Archive.
References
Walton, Lancashire: a Social History 1558-1939 (MUP, Manchester 1987) p.198.
The Woman Worker, 3 March 1909, p.214.
Liddington, The Life and Times of a Respectable Rebel: Selina Cooper (1864 – 1946) (Virago, London, 1984).
Women Folk, 23 May 1910, p.163.
Dowson and A. Entwistle (eds), A History of Twentieth Century Women's Poetry (CUP, Cambridge, 2005) p.57.
Boos (ed), Working-Class Women Poets in Victorian Britain. An Anthology (Broadway Press, Toronto, 2008) p.42.
Trotsky, Revolution Betrayed. What is the Soviet Union and where is it going? (Pathfinder, New York, 1972) p.88.