It is 30 years since Tory prime minister John Major was moved to protect Iraqi Kurds from Saddam Hussein's brutal slaughter. The safe haven initiative provides a telling example for Keir Starmer's Labour as it rethinks its foreign policy, says GARY KENT.
The Kurds have long been a cause célèbre on the left, ever since they were denied, or failed to achieve, national self-determination, the watchword of the post-World War One Versailles settlement a century ago.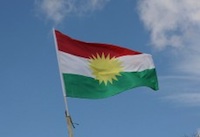 In the 1970s and '80s Kurdish leaders from Iran and Iraq gained strength at Socialist International events with support from some of the big names of European social democracy, such as Francois Mitterand, Helmut Schmidt and Jim Callaghan.
Later, left wingers were aghast at Saddam Hussein's chemical bombardment of Halabja in 1988 when 5,000 were killed almost instantly as part of a wider genocidal campaign called Anfal that claimed about 200,000 lives and obliterated thousands of villages.
Labour MPs Jeremy Corbyn and Ann Clwyd backed a Commons motion in 2013 to formally recognise Anfal as genocide, and most Kurds in the UK probably vote Labour. Yet, due in part to an accident of history, it was a Conservative prime minister, Sir John Major, who devised the policy that saved the Kurds from further genocide in 1991.
Saddam's decision to invade Kuwait 31 years ago triggered an international coalition that liberated the country within a few months. In the aftermath, Shias in the south and Kurds in the north revolted, spurred by American and British appeals for a palace coup – a 'one bullet policy' to replace Saddam while keeping Iraq intact.
Saddam was losing control of most of Iraq but was accidentally given a lifeline by the main US general's foolish decision to permit use of helicopter gunships. The Shia uprising was drowned in blood and the Kurds were pushed back while two million people fled for their lives to the mountains.
Fog of war
Three years earlier, Saddam's attack on Halabja had taken place largely out of view, the Anfal campaign kept off our TV screens by the fog of war between Iran and Iraq, who were battling it out in conditions akin to the slaughters of the first world war.
In 1991, however, the media were there. US left-wing political theorist Michael Walzer writes in his excellent 2018 book, A Foreign Policy for the Left, about the power of "the camera crews [who] arrive faster than rigor mortis".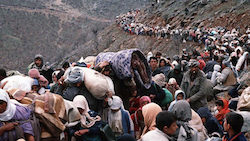 Dreadful scenes of misery and death in the bleak and freezing mountains dominated the news and the scenes galvanised British public opinion. I was working for Harry Barnes, an ILP member and MP for North East Derbyshire, when key organiser Lorraine Goodrich from British Aid for the Kurds contacted us. Harry urged the government to support her and managed to persuade Iranian Airways to take provisions to the Kurds.
Parliamentarians of all parties called for action, including Tory grandee Sir Julian Amery who demanded a response with or without the United Nations. Significantly, his father had been the British colonial secretary who saluted the newly formed RAF's bombing raids against the Kurds in the early 1920s.
Ann Clwyd, who had spent five days in the mountains with the Kurds, mesmerised the Commons with her account of their suffering and the fear they felt at once again facing genocide.
The broad expectation was that the British government would send aid and restrict itself to calls for dialogue and conciliation while upholding the territorial sovereignty of Iraq. Number one in the charts at the time was 'Should I Stay or Should I Go?' by The Clash, and it provided a fitting political metaphor as US and UK governments were keen to withdraw as soon as possible and not get embroiled in a civil war.
Remarkably, John Major didn't abide by the diplomatic rulebook of realpolitik. A timeline shows the hectic pace of debate: the Kurds rose up on 5 March; Major briefed his cabinet on 21 March (Kurdish New Year); he backed a fairly anodyne UN Security Council resolution on 5 April; and three days later he persuaded the European Community to support his novel plan for a safe haven and no-fly zone over Kurdistan.
Major then persuaded a reluctant President George HW Bush to join the UK and France in policing the area, which they did for another 12 years until the 'liberation' of Iraq, as Kurds routinely see it, from Saddam in 2003.
Responsibility to protect
John Major's safe haven policy, supported by Labour, clearly saved the Kurds. Maybe many thousands more would have been slaughtered without it, and the Kurdistan region would not now exist in its present form.
Left wingers began visiting Iraqi Kurdistan shortly after the war. Corbyn made the trip in July 1991. The following year, they held elections, formed a coalition government and founded the Kurdistan Region.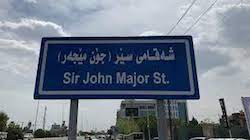 From 2003, Kurdistan did much to stabilise Iraq and, for some time, provided the principal weight of armed resistance to the so-called Islamic State caliphate. They sacrificed many Peshmerga and were, thankfully, supported by the RAF, as I saw on the frontline in Kirkuk and Mosul. Sadly, Corbyn opposed RAF deployment, as he did when Kobani in northern Syria was menaced by Daesh in 2014.
Major's policy also broke the established doctrine that internal repression could be ignored, just as the police often ignored so-called domestic violence. It started the still incomplete doctrine of 'responsibility to protect' and underpinned armed interventions in the brutal civil war that soon engulfed the former Yugoslavia.
Kurds today continue to point out the malign policies of British and French imperialism in carving up territory for their own interests. But they also salute Major and Tony Blair.
The Kurdistan Regional Government officially renamed a main thoroughfare in their capital, Erbil, after Sir John Major. A prominent place on that street is the Hawler restaurant where, 15 years ago, a Labour Friends of Iraq delegation convened every night with Kurdish unions for kebabs, hummus and beer.
His intervention 30 years ago changed the Middle East for the better. It was a hurried response to anger and public opinion, prompted in part by canny Kurdish lobbying, and it redeemed the reputation of the UK. Kurdish leaders I have met since, on some 30 subsequent visits, say they still need military support on occasions, but mostly they seek political, cultural, commercial and educational engagement.
Labour under Keir Starmer is currently reconstructing its foreign policy. The example of the 1991 safe haven can help it to rethink how a Labour government could enhance dialogue and conciliation around the world, how and when to use military force, and how to make "the choice of comrades", as Walzer puts it.
—-
Gary Kent has been a Labour Party member since 1976 and has worked in Parliament since 1987. He was secretary of the Socialist Committee on Ireland and now focusses on Iraqi Kurdistan where he is a columnist, a director of a training agency and a visiting professor.
See also: 'Recognising the Anfal Genocide' and 'Kurdistan's Message of Hope for Iraq', both by Gary Kent.