Allen Clarke was a well-known figure in the north of England socialist movement between the early 1890s and 1930s, yet today he is virtually forgotten. PAUL SALVESON recalls the extraordinary achievements of a working class writer and romantic radical who deserves a larger legacy.
Allen Clarke was friends with Keir Hardie, corresponded with Tolstoy and Thomas Hardy, and helped to end child labour in the mills. He was loved by tens of thousands of Lancashire mill workers and produced an astonishing output of novels, poetry, journalism and works of philosophy. He was the joint ILP/Social Democratic Federation candidate for Rochdale at the 1900 general election and won a rather meagre (even for its time) 901 votes.
But his real strength and popularity lay in his writing and his ability to put across simple but radical messages to his huge working class readership.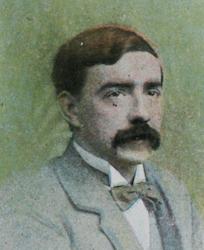 Between 1890 and 1935 Clarke became one of the north's most popular dialect writers, following in the footsteps of Lancashire working class writers such as Edwin Waugh, Ben Brierley and Samuel Laycock, a generation earlier. He built up a devoted readership amongst the mill workers of Lancashire and Yorkshire, being best known by his pen-name, 'Teddy Ashton', which he used for his Tum Fowt Sketches set in 'Tum Fowt' (or Tonge Fold) just outside Bolton.
Researching Clarke's life in Bolton back in the 1980s I could still find old mill workers who fondly remembered Teddy Ashton and even had well-thumbed copies of his Lancashire Annuals – but they had never heard of Allen Clarke. He loved this ambiguity but it may have cost him wider recognition.
Born in Bolton on 27 February 1863, Clarke was the son of cotton workers. His father emigrated from county Mayo in the 1840s to find work in the Lancashire mills, and moved up the ranks to become a 'minder', one of the aristocrats of the working class. It was a highly intellectual family, with a bookshelf full of 'the classics' as well as the work of dialect writers such as Laycock.
The family moved briefly to Mirfield, in the West Riding of Yorkshire, when Clarke was 11, probably because his father had been blacklisted for union activities. He started his first job, as a 'little piecer', in a local mill. He hated it. When the family returned to Bolton a year later he started working full-time as a piecer for his father.
This experience of millwork gave him a burning sense of injustice and he championed the campaign against child labour in the mills in the 1890s.
He managed to escape from the mill and after a brief time working as a pupil teacher and in other jobs, he took the risk of starting his own paper – The Labour Light. He did this without, as he later reminisced, "a ha'porth of capital".
Though not a commercial success, the paper gave him a way into professional journalism and he got a job writing for the Lancashire-based Cotton Factory Times and its sister organ, The Yorkshire Factory Times. In 1896 he once again set up his own paper, Teddy Ashton's Northern Weekly. This time it was a success, with an estimated readership of about 50,000 a week.
His readership was overwhelmingly working class, as shown by the huge volume of readers' letters from weavers, spinners, railwaymen and engineers from the South Lancashire and West Riding textile districts. Clarke saw himself as part of that northern industrial working class, and wrote both serious and comic stories about ordinary people's lives in the mills, weaving sheds and mines. He said, in 1896: "My aim today is to give the working class life (of Lancashire principally, for that I know best) faithful expression in the literature of England."
Literary history
Clarke wrote most of the copy for his Northern Weekly, often using a bewildering array of pen names. His novels, numbering more than 20, were serialised in the paper and some were later published in book form. Nearly all of them are about life in the Lancashire and Yorkshire industrial towns and cities, such as The Knobstick (an old dialect term for 'blackleg') set in Bolton during the 1887 engineers' strike.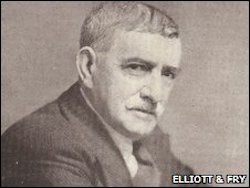 One of his novels made literary and labour history, being censured by a group of railway trades unionists. They passed a resolution condemning the ending and the branch secretary wrote to the Northern Weekly in October 1897: "At a meeting held last Saturday at Longsight Permanent Way Dept. it was resolved to censure Allen Clarke for ending the tale entitled A Curate of Christ's without any explanation as to how the strike ended, what became of the curate and a hundred other questions. I was asked, as secretary, to write to you as the railwaymen are anxious to know."
Clarke replied and acknowledged the novel's faults and the personal reasons – the death of one of his children – behind the novel's unsatisfactory ending.
Many of his novels have strong female characters, such as A Daughter of the Factory, which features mill worker Rose Hilton as a revolutionary heroine. In Driving – a tale of weavers and their work, the main figure is Bertha Lindley, a weaver and union activist. Neither novel was published in book form but were serialised in his newspaper, reaching a much wider audience at the time but denying them to posterity.
He was also a good poet and his 'Gradely Prayer' is still recited at Lancashire gatherings. A copy of it is displayed, appropriately, on Platform 4 at Bolton station where the young Clarke used to take the train to Blackpool. He was strongly influenced by Walt Whitman and was part of the informal but influential Bolton Walt Whitman Fellowship. Among his finest work was 'Voice of the Half-Timers' published by Robert Blatchford's Clarion newspaper in 1895.
He developed a highly personalised message, treating his readers as part of an extended family. His 'Editor's Gossip' was just that, sharing his ideas and experiences with his readers and inviting them to respond. His 'Children's Corner' encouraged hundreds of boys and girls as young as seven or eight to write in about serious issues such as child labour, as well as comment on more traditional children's pastimes.
In the early 1900s he started the Teddy Ashton Picnics, the first of which attracted around 10,000 visitors to Barrowbridge on the outskirts of Bolton. The event was to raise money for the locked-out quarry workers in Bethesda, North Wales. Again, Clarke mobilised the support of his young readers to raise support for their brothers and sisters in Bethesda.
He wrote for an array of other newspapers, including The Clarion, Labour Leader, and The Cotton Factory Times. In his later years many of his novels were syndicated by Tillotson's Newspapers to a large number of local newspapers as far afield as Scotland, Ireland and even New Zealand.
Clarke had a tendency to fall out with people, though sometimes he wasn't to blame. He had a major row with John Bruce Glasier in 1908 when his newspaper was on its uppers and he was appealing for readers to help keep it going. Glasier was more concerned about the survival of the relatively dreary Labour Leader and possibly resented Clarke's popularity.
Radical edge
Clarke's work always had a radical political edge. He used comedy to attack the social evils of the time. He once wrote (of his alter ego): "I daresay Teddy Ashton's droll sketches have done more to help reforms than far more pretentious and direct articles. For 'Teddy' even in his comic dialect sketches, pokes sly fun and undermining sarcasm at the iniquities and social injustices of the day."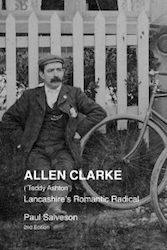 He wrote some serious works as well, including The Effects of the Factory System, a searing indictment of life in the mills. Tolstoy had the book translated into Russian and the two men corresponded. The book castigated the half-time system in the mills in which working class children as young as 11 were expected to work from six in the morning to lunchtime in the mill and then attend school in the afternoon. Clarke worked with the National Union of Teachers to raise awareness of the pernicious system, in the face of opposition from textile unions. It was abolished in 1918.
Clarke was always on the side of the underdog and supported many unpopular causes, from women's emancipation to the end of child labour and Irish independence. He was strongly opposed to the Boer War and was a pacifist for most of his life. Politically, he was something of an anarchist, but a pragmatic one. As we've seen, he stood as joint socialist candidate for the Rochdale ILP and SDF and was a regular speaker at ILP and SDF meetings.
He to set up a co-operative colony near Blackpool in the early 1900s but it had a rather short life. He was fascinated by eastern religion, particularly Buddhism, and became a spiritualist. His book The Eternal Question – is there life after death? was hugely popular and reflects what were then close links between the socialist movement and spiritualism.
He loved cycling too, and spent much of his spare time exploring the byways of Lancashire and Yorkshire. His book on the Lancashire countryside, Moorlands and Memories, is a series of articles describing his rides around the moorlands during the First World War.
The Clarke family eventually moved to Blackpool in 1905 and Clarke became a popular local figure, establishing his own shop and building a network of rambling and cycling clubs. He stood for election to the local council alongside the socialist ice-cream seller Pablo, but wasn't elected.
He wrote his most popular book, Windmill Land, about the Fylde countryside – an exotic mix of local history and folklore, based around his cycling trips and rambling expeditions. Little Marton Mill, celebrated in the book, has been preserved as a monument to this "man who loved windmills". He died in 1935.
—-
This article is partly based on an article previously published in Tribune.
The new edition of Paul Salveson's Allen Clarke ('Teddy Ashton') – Lancashire's Romantic Radical will be available from 1 September for £18.99.
Pre-publication copies are available from Lancashire Loominary for £15. Email Paul for details: info@lancashireloominary.co.uk
Moorlands, Memories and Reflections, a centenary celebration of Clarke's Moorlands and Memories, is available for £20.