The Russian invasion of Ukraine is against international law and a flagrant breach of the UN Charter. In deliberately targeting the civilian population the Russian leadership is committing crimes against humanity.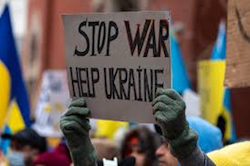 Driven by his ambition to forge a new empire with himself as tsar, surrounded by a web of protectorates, Vladimir Putin seeks the destruction of the Ukrainian state, which he claims has no right to exist. His autocratic rule depends on crushing the threat of a democratic alternative abroad and repression of opposition at home.
With his endless lies, deceptions and falsehoods, Putin has unleashed a barbaric onslaught on the people of Ukraine and, like dictators and warmongers the world over, he shows no mercy.
His chilling remark that it had been a "mistake" to allow the former Soviet republics to become independent reveals his future ambitions.
We express our solidarity with the Ukrainian people and support the resolution passed by the UN General Assembly calling for immediate cessation of the use of force by Russia and the immediate withdrawal of Russian troops from Ukraine.
The invasion of Ukraine raises critical long-term questions about peace, security and democracy in Europe. However, the immediate crisis calls for:
Maximum pressure on the Russian government and its armed forces in defence of Ukraine. This includes provision of immediate defensive military aid – including lethal and non-lethal assistance; and implementation of crippling sanctions aimed at undermining Putin's regime, his supporters, and his ability to wage war.
Support for all possible efforts to safeguard Ukraine's civilian population. This includes the creation of safe havens for Ukraine's citizens; safe and unfettered passage to destinations outside of Ukraine; and the provision of immediate and massive humanitarian aid to Ukraine citizens and refugees.
In addition, we support the call made by Mick Antoniw, Minister for the Constitution in Wales, for the cancellation of Ukrainian debt, the exclusion of Russia from international trade and the provision of accommodation and support in the UK for those fleeing the carnage.
Solidarity with the people of Ukraine!
—-
The Disasters Emergency Committee has started a Ukraine Humanitarian Appeal. Donate here.
You can support the Ukraine Solidarity Campaign here.
The Kyiv Declaration, drawn up by a coalition of 40 Ukrainian civil society groups on 28 February, is here.
Labour leader Keir Stramer's statement to parliament on the Ukraine crisis is here.
You can read the TUC's statement on Ukraine here.
See also: 'Ukraine, Starmer & the Left' by Will Brown.