CHRISTOPHER HALL welcomes a new book on the role of POUM volunteers in the Spanish Civil War that includes a detailed account of the ILP contingent.
The participation of thousands of international volunteers on the side of the Republic during the Spanish Civil War is known as one of the most epic examples of internationalism in the history of the labour movement.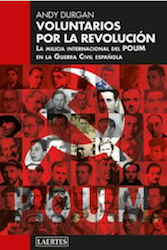 Much less well known, with the notable exception of George Orwell, is the presence of some 500 foreign fighters among the ranks of the Marxist Unification Workers' Party. This book places their experiences in the context of POUM military policy; the characteristics and situation of the military forces under the control of the party; the reality of their presence on the Aragon front; and the role of women in the militia.
The product of an exhaustive study of available sources, the book examines the social and political background of the volunteers, in many cases anti-fascist refugees; their participation in the POUM militias; how they became victims of the slander and repression unleashed against the party in the republican zone; their time in concentration camps and their anti-Nazi resistance during World War II; and their fate in the post-war years.
Finally, the author offers a detailed refutation of the charge, prevalent during the Civil War and recently resurfaced in some historical texts, that the POUM and its foreign sympathisers somehow collaborated with the enemy.
The book contains a detailed chapter on the ILP volunteers and sections on Orwell, Georges Kopp, Bob Edwards and Bob Smillie. A short biography of each ILP volunteer is also included, as is a rare picture from the front of ILP volunteers, taken from the Abraham Lincoln International Brigade archives.
Written in Spanish, this book is the definitive account of all those brave foreign anti-fascists who risked their lives to fight for POUM and the revolution against the forces of international fascism. The book includes maps, many pictures and exhaustive footnotes.
Even if your Spanish is limited, like mine, it is a must buy if you want to know about the mass of international volunteers who volunteered to fight Franco's forces in the POUM militia.
—-
Voluntarios por la revolución (Volunteers for the Revolution: The POUM international militia in the Spanish Civil War) by Andy Durgan is published in Spain by Laertes and available here for €29.00 (c.£24.00).
Christopher Hall is a member of the International Brigades Memorial Trust and author of 'Not Just Orwell': the Independent Labour Party volunteers and the Spanish Civil War (Warren and Pell, 2009) and In Spain with Orwell: George Orwell and the ILP Volunteers in the Spanish Civil War, 1936-1939, (Tippermuir Books, 2012).
Click here to read 'The ILP and the Spanish Civil War' by Christopher Hall.