English Heritage marked International Women's Day today (8 March) by erecting one their famous blue plaques to honour the life and achievements of ILPer Ada Salter who in 1922 became the first Labour woman in Britain to be elected mayor and the first woman mayor of a London borough.
The plaque was fixed to 149 Lower Road in Southwark, south-east London, the first place where Ada lived after moving to the area in 1897 to work at the Bermondsey Settlement.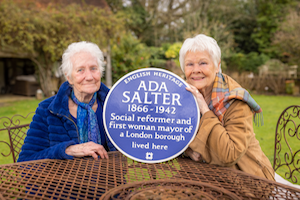 The house is described by Graham Taylor in his lauded biography of the ILPer as "an ordinary nine-roomed house" that "overlooked the green foliage of Southwark Park while at the rear was Canada Dock, with its piles of Baltic timber and the tapering masts of ships".
She lodged at the address for just a few months. The family home at 5 Storks Road, where she lived with husband Alfred and daughter Joyce, and cultivated her famous garden, was destroyed by war damage. And the impressive Bermondsey Settlement building, where Alfred was living when they met, was demolished in the 1960s.
The honour is a fitting tribute, not only to Ada and her work in "beautifying" Bermondsey, but to the year-long Salter Centenary project, whose patron, Dame Judi Dench, first unveiled the plaque with project coordinator Sheila Taylor last month (see photo above). The inscription on the ceramic plaque reads, "ADA SALTER 1866–1942 Social reformer and first woman mayor of a London borough lived here".
The English Heritage website describes her as a "social reformer, environmental improver and local politician" who helped found the Bermondsey branch of Independent Labour Party. Along with her husband, she went on to pioneer socialist improvements in the borough's deprived slums and later pioneered social change for women and working class communities across London.
The blue plaque website says of Ada: "She never wavered in her belief that, in conjunction with adequate housing and health care, an attractive urban environment with green spaces was vital to the welfare of the people, and should be accessible to all. 'Socialism in action; that is what she was'."
—-
More about the Salter Centenary project is here.
You can read Graham Taylor's ILP profiles of Ada and Alfred Salter on this website.
His ILP pamphlet, Ada Salter and the Origins of Ethical Socialism, is still available for £4.00.
His biography, Ada Salter: Pioneer of Ethical Socialism, is also still available.
See also: 'Throwing a Spotlight on ILP Women'.
More about International Women's Day is here.