Photographer Simon Weldon has published an online gallery of participants at the Indie Labour Fest event held to mark the ILP's 130th anniversary in Bradford in January.
Weldon, a Leeds-born Bradford resident, is a photographic technician at Huddersfield University where he gained a Masters degree for a photo research project examining his working-class background.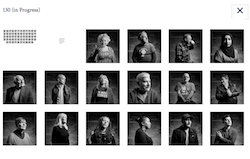 He recently teamed up with Labour historian Professor Keith Laybourn on a follow-up project about the formation of the Independent Labour Party in 1893, which he hopes to become "a wider reflection of where Bradford is today".
"I find that outside Bradford or the local area, or those without an interest in left wing politics, the ILP is obscure or even unknown," explains Weldon.
"I've been keen to create something around the ILP to bring a renewed focus on the rich history of local people standing up for themselves that ties into the national, indeed international struggle of ordinary people, to coincide with Bradford's City of a Culture status in 2025."
His idea was relatively simple, he says – to take a portrait of every attendee at the commemorative event held at Bradford's Manningham Mills on 14 January.
Weldon attended the conference and took a series of striking black and white portraits of many of the 130 attendees.
All of these are now available on Weldon's website where he expresses "solidarity with every one of them", writing: "The people who kindly sat for the photographs (and those who did not) should be immensely proud of their continued drive, determination and belief in their vision of a better world."
"I believe that documenting the event was important for so many reasons," he adds, "but above all for underlining how a meeting such as this in Bradford is history."
In the longer term, Weldon hopes to bring together his own images with archive photographs and ephemera that "visually examines the span of the ILP's history". The next step is to photograph the city's historic St George's Hall theatre, once the setting for ILP mass meetings.
—-
Simon Weldon's portraits are available on his website here.
You can read Mary Stratford's report of Indie Labour Fest here.